If you have trouble trying to prepare a presentation, you should use Tome AI and meet generative storytelling. Tome AI can quickly create a first draft of your presentation that is exactly how you want it using GPT-3 and DALL-E 2! Is it really that simple? We can assert that AI can be that simple in the modern world when it is present in every part of our lives.
Do you have any previous experience with AI? Don't be intimidated by artificial intelligence jargon; we'll compile a comprehensive glossary of the most often-used words and explain the fundamentals of AI and its advantages and disadvantages. Do you have concerns about how artificial intelligence will affect daily life? Well, creating a presentation serves as a good illustration of this.
What is Tome AI?
With the use of GPT-3 and AI-generated graphics, generative storytelling in Tome enables creators to quickly and simply build entire stories, presentations, or outlines from scratch, complete with intelligent titles, pagination, page layouts, and page text.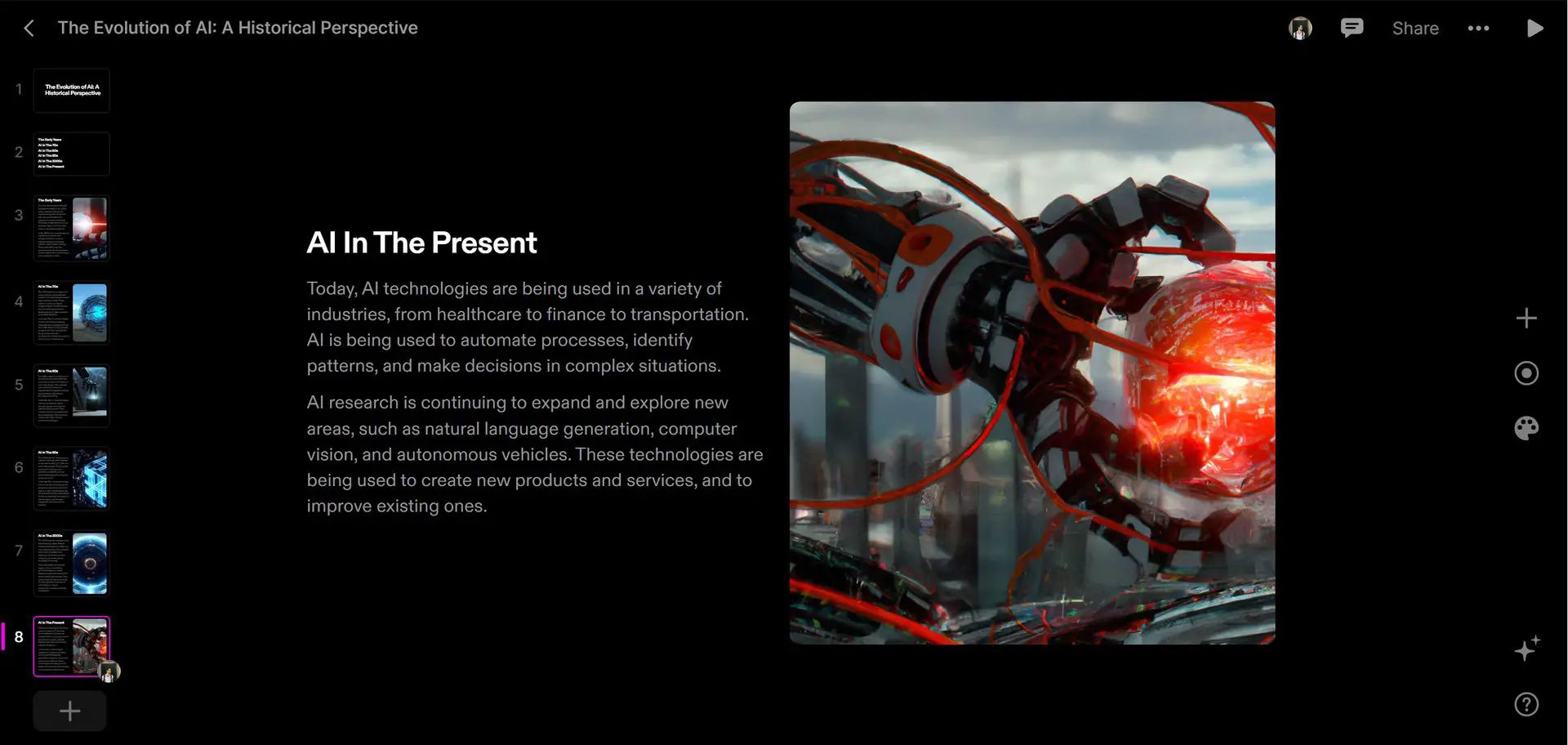 A brand-new AI tool is available that can support presentations. Users only need to briefly describe their desired presentation in a predefined text space to use it. Teams might use it to discuss a project presentation deck or a business strategy.
"From the start, Tome was always meant to be a completely new way to share ideas and help anyone tell a compelling story. We built Tome to be a responsive, intelligent partner, not a static page. We knew that the technology we could tap into would keep expanding. And if it benefits storytellers, we want it in Tome. So for us, weaving generative AI into Tome was a no-brainer. We're in the early stages of seeing how generative AI can empower storytellers and give more people a voice. We're making AI in Tome as creator-focused as possible. That means building on powerful, large models and continuing to tailor our AI to create highly collaborative experiences that fit naturally with how people work."
-Tome cofounder and CEO Keith Peiris
Tome's AI capability allows for modification of the generative narrative experience. Now, Tome's AI can be programmed to edit copy while maintaining its length, make it more concise or detailed, and use the most effective voice (inspiring, formal, informal, objective, persuading, or playful). Users can select from three different output types (presentation, story, and outline) and numerous picture formats using Tome's new prompt bar (Neo-Impressionist, Pop Art, Fantasy, Cyberpunk, Anime, and more).
Tome AI features
Tome mixes simple design with dynamic information and strong functionality to produce a magical experience. Tome enables anyone to naturally articulate ideas, allowing them to stop creating PowerPoint presentations and start telling stories.
Tome AI has a lot to offer, including:
You can build a powerful story
 with any content.
Frictionless creation meets magic design.
Live, interactive content from the web. Integrated with Figma.
Video comments.
Templates.
Are you interested? Let's see how to use it.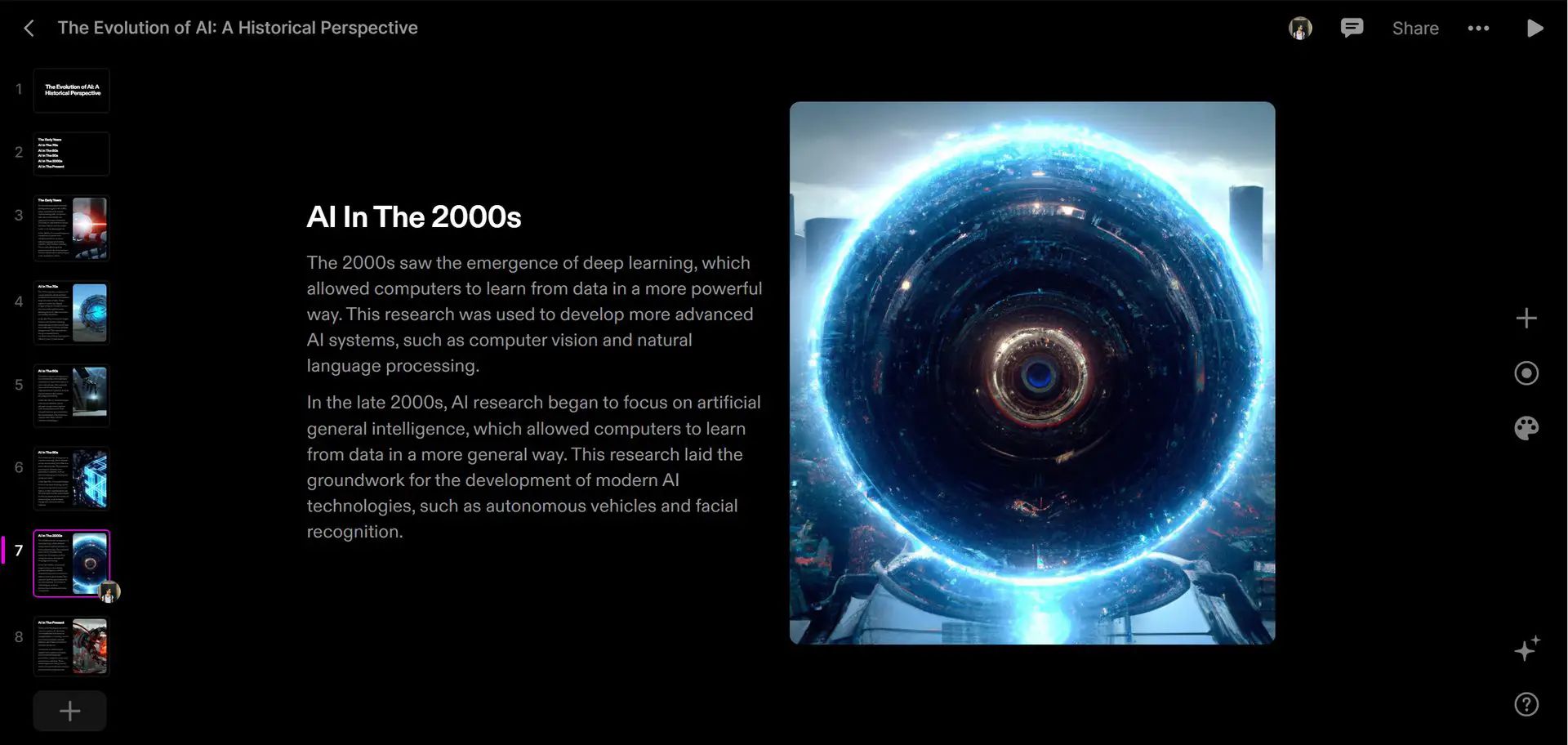 How to use Tome AI?
It's extremely easy. Just follow these steps:
Visit Tome AI, select "Get Tome for free," and log in.
After completing account creation, you will be asked to make a workspace.
Click "create" in the upper right corner.
Type a simple text about what you want to put in the PPT in the designated area.
Press enter and AI will handle everything for you; it will produce a stunning 8-page PPT with the first page serving as a header (what you wrote in the text), next the index page, and the other 6 pages including 6 separate subjects for the same text.
If you want to change anything in the presentation, click the part you want to edit, like Powerpoint.
Would you like to view the entire presentation? Click the link.
For more details, read the official guide.
Tome AI pricing
You receive 500 credits from Tome AI when you sign up, and you may get more credits by referring users to the program. For other price options, get in touch with the Tome AI team.