Attention teachers! Discover our top 7 AI tools to enhance your students' educational experience in 2023. This article will explore the seven best AI tools intended for teachers and how to utilize them in teaching for optimal advantages.
AI for teachers: 7 best tools
AI for teachers is becoming increasingly popular and accessible. By implementing AI technology in education, teachers can effectively utilize their classroom time and available resources.
This blog post will cover the 7 most optimal AI for teachers to enhance their teaching experience and empower students to achieve their utmost potential in 2023.
Stay ahead in education technology as a teacher and discover these incredible AI for teachers. Read on to learn more!
ClassPoint AI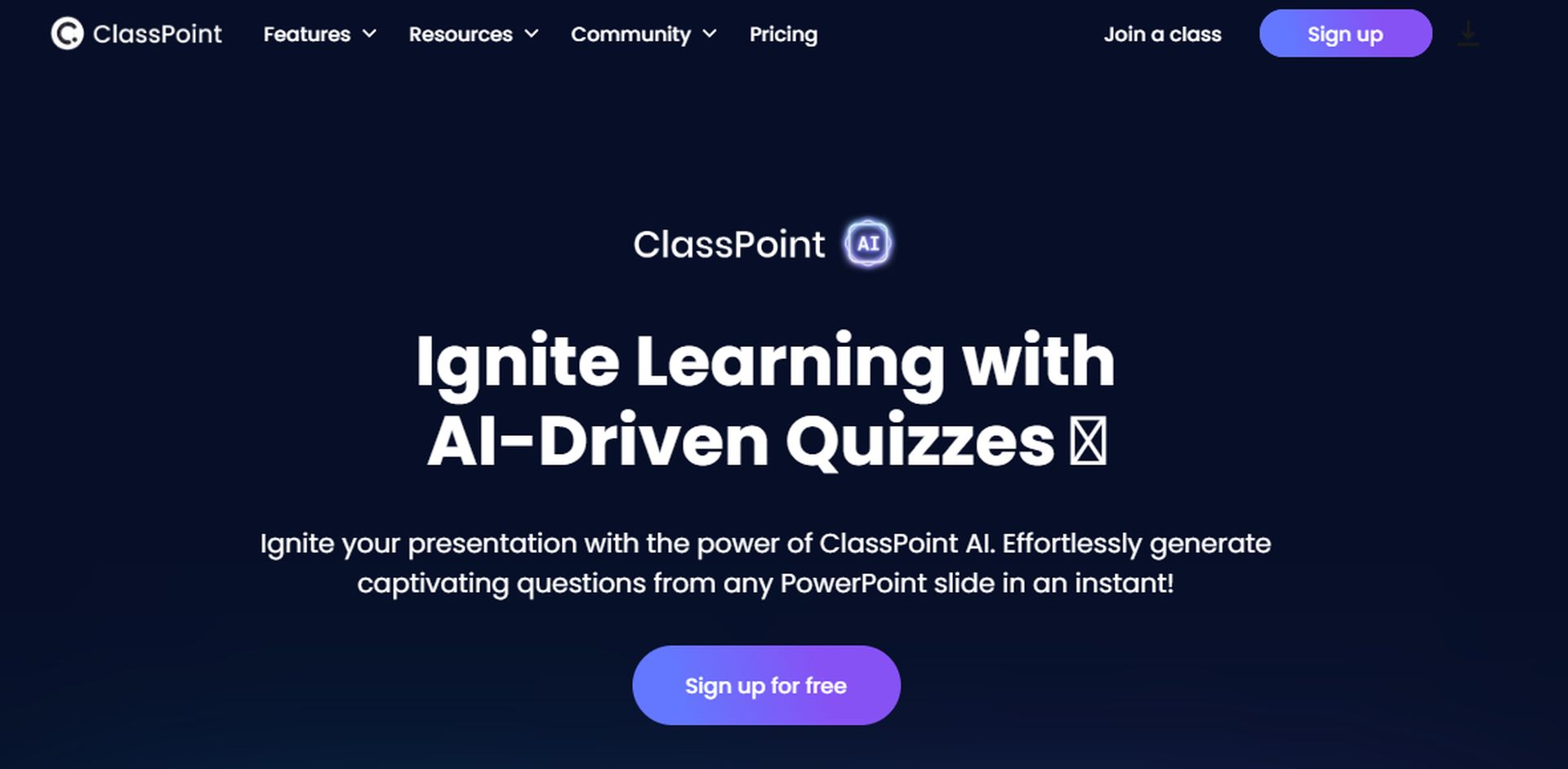 ClassPoint AI is an AI tool exclusive for teachers, specifically created to generate questions from any PowerPoint slide. Even when there is only a single word on a slide, ClassPoint AI can generate related questions.
For instance, when a slide has the word "English", ClassPoint AI will identify it and produce questions associated with English. If the slide concerns the biology topic of photosynthesis, ClassPoint AI will formulate questions about photosynthesis.
Special features include the ability for teachers to quickly transform these AI-generated questions into interactive quizzes, such as multiple-choice questions, short answers, or fill-in-the-blanks. Teachers can also select the desired Bloom's Taxonomy level for each question to determine the type of evaluation they want to see applied.
ClassPoint is free and straightforward to use. For teachers who want to benefit from all ClassPoint features, the ClassPoint Pro Plan offers unlimited access to ClassPoint AI, Portable Objects, Saved Classes, and advanced Gamification.
The tool has a user-friendly interface, which makes it easy to use for teachers at any level of technological knowledge. Moreover, educators can use ClassPoint AI alongside their familiar PowerPoint Presentation tool because it is integrated into it.
QuillBot

QuillBot is an AI-powered paraphrasing tool that employs advanced algorithms to aid teachers in developing lessons, worksheets, and assessments. By inputting a sentence or paragraph into the tool, teachers can obtain a plethora of alternative sentences that maintain the original meaning but feature different terms or phrases.
Utilizing this AI paraphrasing tool can assist teachers in creating fresh teaching resources and worksheets from preexisting materials, circumventing the need to start from scratch. QuillBot is invaluable in aiding language learners. Specifically, students can utilize QuillBot to articulate their concepts and opinions more cogently and efficiently through its provision of alternatives.
Interestingly, QuillBot is more than a paraphrasing tool as it guarantees academic probity when composing top-notch content by its grammar, citation, and similarity-checking functionalities.
Pricing information is also available. QuillBot provides a complimentary plan, while the premium package costs £9.95 per month and affords unrestricted use of the paraphrasing tool, advanced grammar correction, similarity checking, tone detection, and numerous additional features. With inexpensive pricing plans and a risk-free trial, educators can seamlessly integrate QuillBot into their teaching without exceeding their budgets.
PowerPoint Speaker Coach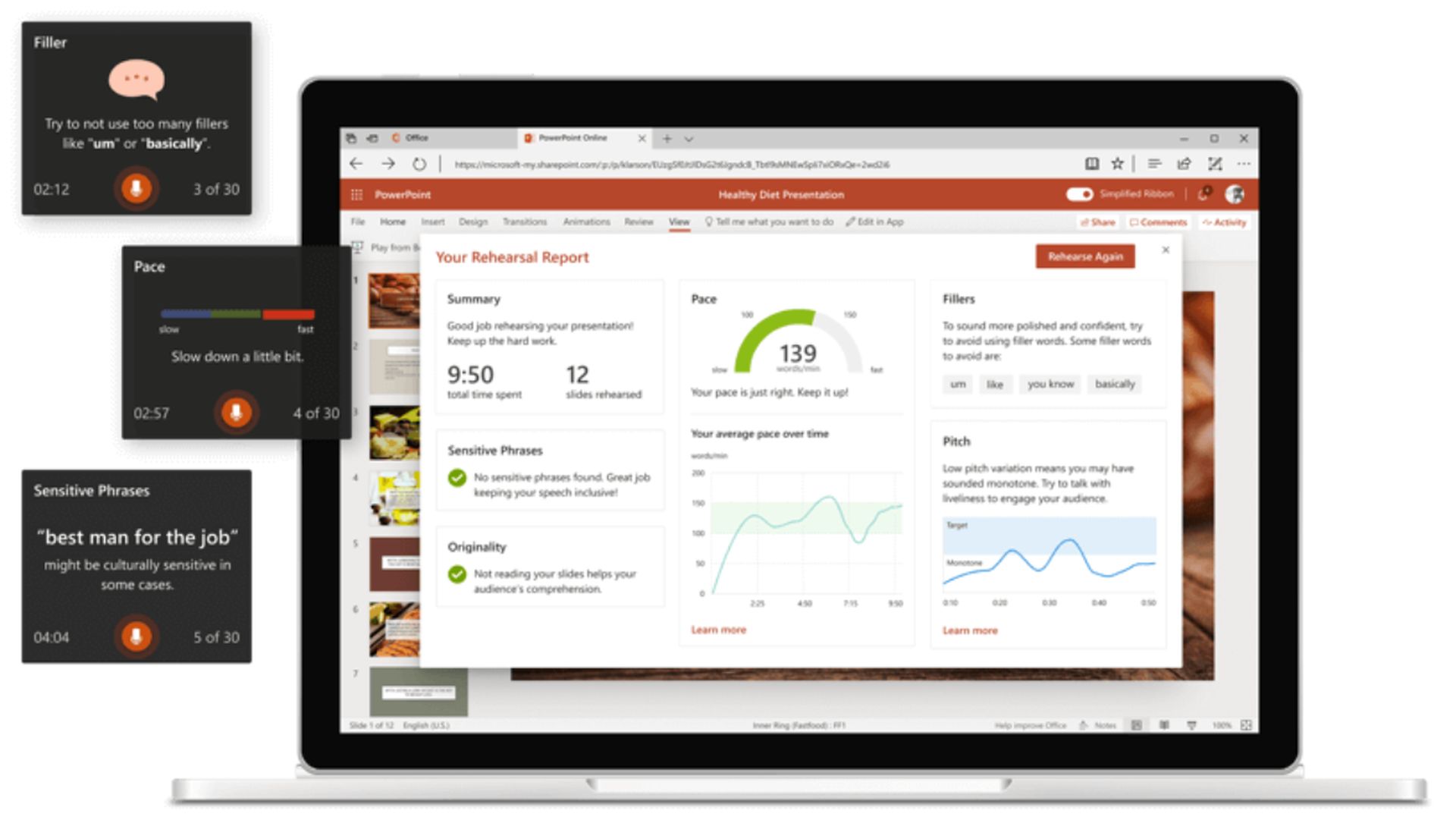 PowerPoint Speaker Coach is a tool that assists educators with delivering classroom presentations in an effective and engaging manner. It analyzes a teacher's pace, tone, and emphasis while presenting a PowerPoint and provides feedback for improvement.
PowerPoint Speaker Coach is a tool that assists educators with delivering classroom presentations in an effective and engaging manner. This tool is ideal for teachers seeking to elevate the dynamism and engagement of their classroom presentations. PowerPoint Speaker Coach is a useful tool for teachers to improve their presentations and enhance student engagement in class. This tool is particularly beneficial for novice teachers or those seeking guidance on optimal presentation delivery.
You can access PowerPoint Speaker Coach in the PowerPoint web application under "Slide Show" > "Practice with Coach."
Special features include increased student attention and participation. PowerPoint Speaker Coach generates an exercise report that includes essential feedback on speech rate, filler word usage, and sensitive phrasing, as well as recommendations for improvement.
Pricing varies depending on the version selected. The software offers both a free and premium version, with the latter offering more comprehensive analysis and feedback.
SlidesAI.io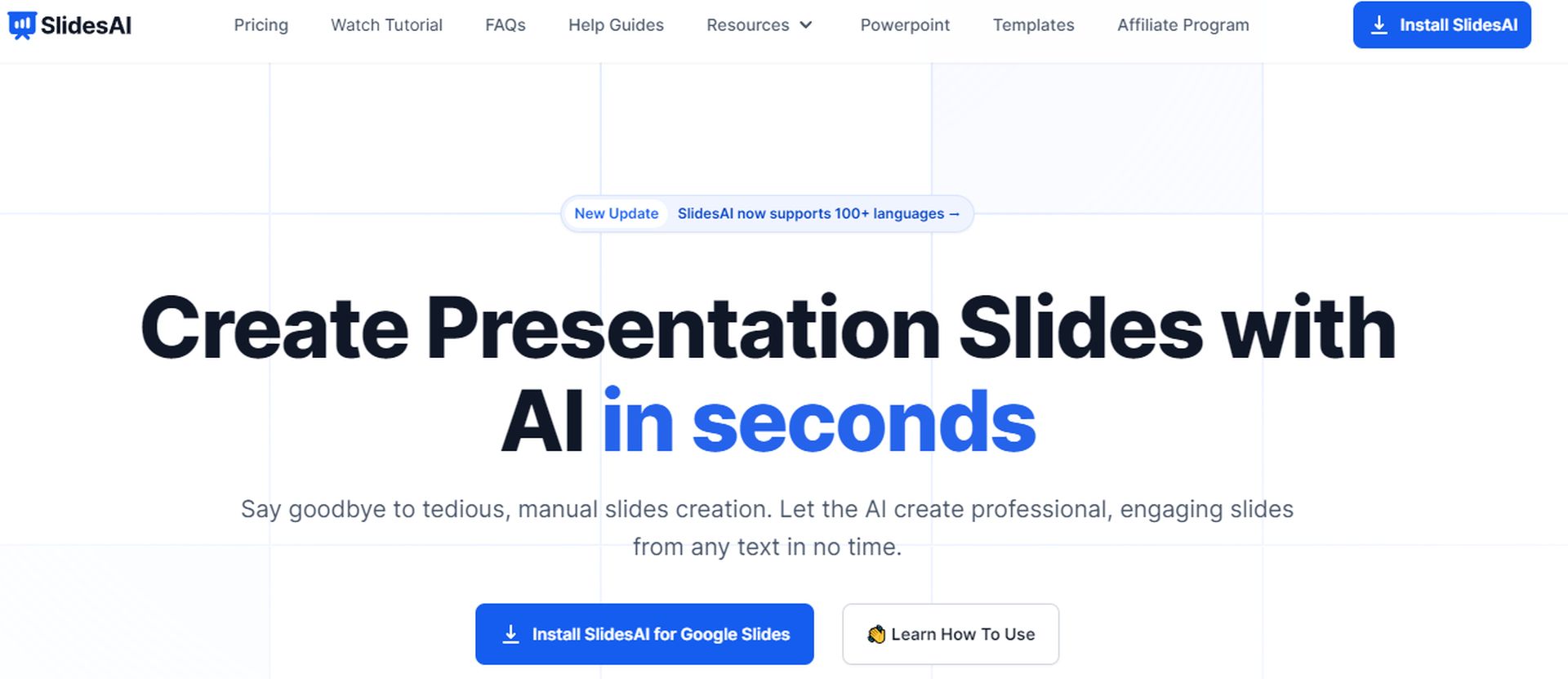 SlidesAI is an efficient AI tool for educators to create attractive and impactful presentations for classroom instruction. It utilizes advanced AI technology to produce presentation slides and designs based on your input, enabling you to concentrate on the slide content. It further recommends suitable images and charts according to the presentation's context.
For more information on generating instructional presentations using AI-fueled PowerPoint builders, please refer here.
Special Features: SlidesAI seamlessly integrates with Google Workspace, offering a wide variety of pre-built templates and themes to choose from.
SlidesAI is a free and excellent option for educators on a limited budget and also allows access to affordable plans at $10.60 per month, which unlock additional features such as exporting presentations in high-quality formats and access to premium templates. If you frequently utilize PowerPoint, explore this resource for additional techniques to enhance your presentation productivity using AI.
Education CoPilot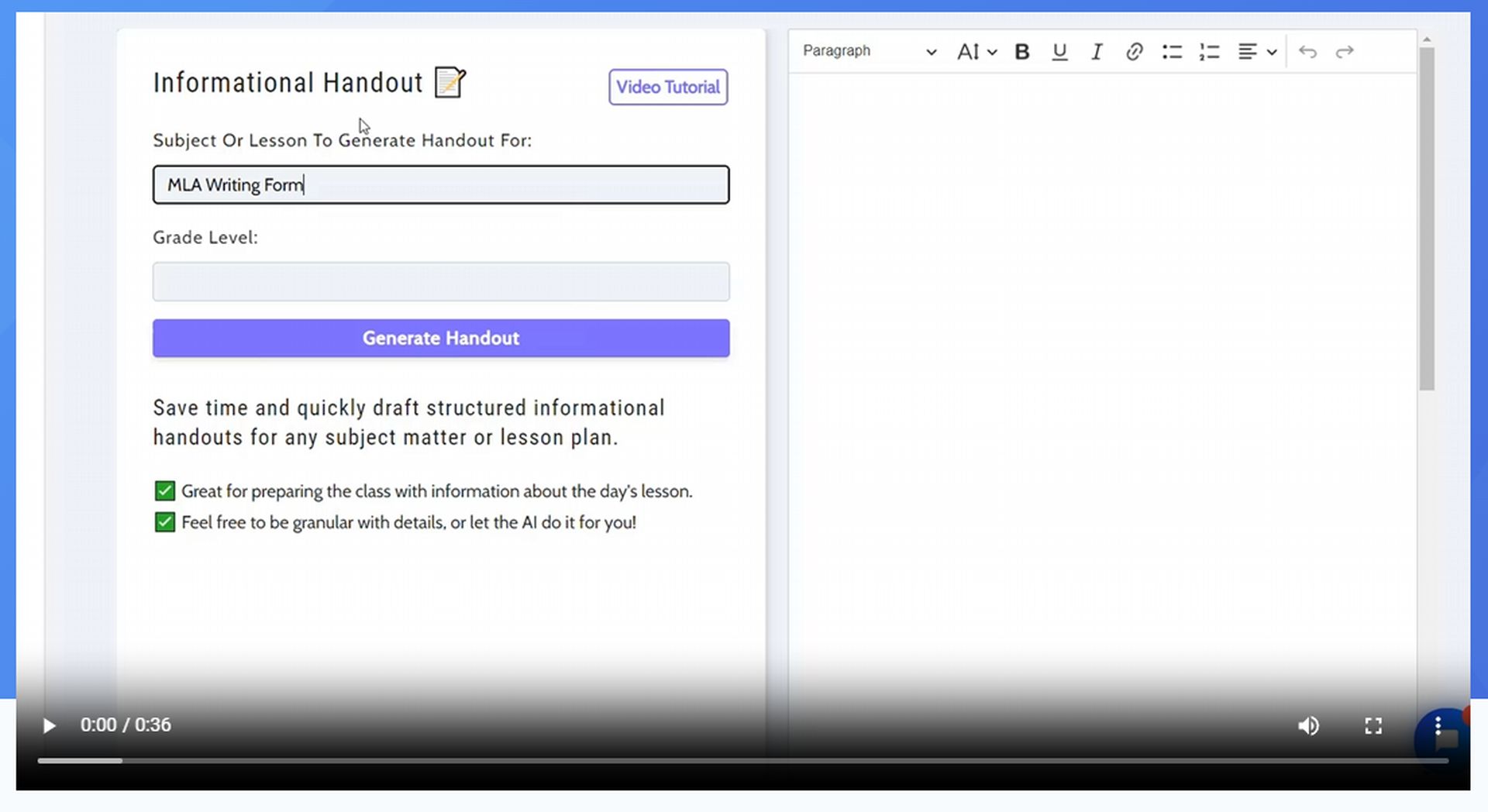 Education CoPilot is an indispensable artificial intelligence tool for teachers. This software assists in creating curriculums, lesson plans, and activities while monitoring student growth. Additionally, it enables customized learning plans tailored to each student's unique needs, making it the ultimate AI assistant for any teacher.
Notable features include: Education CoPilot's capability to quickly generate flyers, assignments, and other teaching materials is outstanding!
Education CoPilot offers both free and paid versions. The free version includes an abundance of features, and if you desire more advanced features, AI templates, document editing, full-length flyer creation, and auto-save, you can always upgrade to the paid version.
Gradescope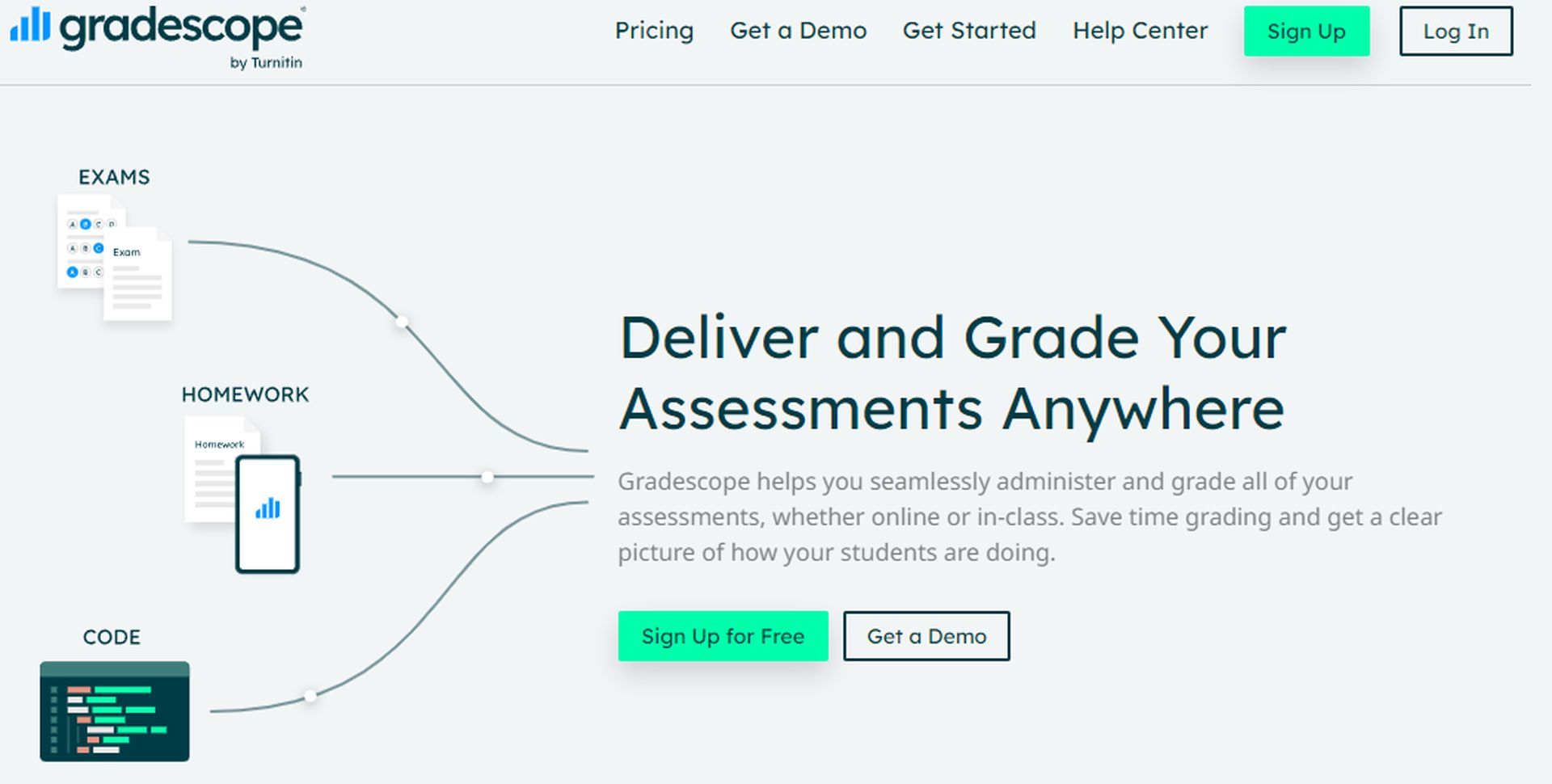 Gradescope is an AI-based grading and assessment tool that has gained popularity among educators recently. Its main goal is to streamline the process of grading papers, assignments, and exams, making it more efficient and effortless. The tool comes with a unique advantage as it supports grading across diverse subjects in science and humanities.
Additionally, Gradescope has a built-in similarity checker, which enables teachers to identify unoriginal work without having to exit the platform. Gradescope offers teachers comprehensive analytics to pinpoint areas that need improvement.
Both free and paid versions are available, with the latter offering additional capabilities like custom benchmarking, tool integration, and collaboration with peers.
Formative AI

Similar to Gradescope, Formative AI is a tool that assists students with evaluating their work.
It provides real-time feedback on their performance, identifies strengths and weaknesses, and allows teachers to modify their teaching strategies as needed. Formative AI streamlines the grading process, saving time and offers valuable insights into student performance that can be used to design future lesson plans.
Formative AI offers various assessment options, including multiple-choice, open-ended, true/false, and image-based questions. Teachers can customize classroom assessments by creating them from scratch or using the provided templates.
One of the best tools for teachers, Formative AI's special feature, is its capability to personalize learning. AI algorithms analyze student responses and provide feedback tailored to their individual needs. This allows educators to provide focused assistance and intervention to guarantee achievement for each student.
Pricing: Offered completely free of charge.
How to use these AI tools effectively
To effectively use these tools, first identify areas where you want to reduce your workload or get assistance, such as creating interactive lesson plans, identifying struggling students, or grading assessments more efficiently.
Then, research available AI tools that best fit your needs. Assess educator feedback and recommendations when deciding which AI tools to utilize.
Upon selecting applicable tools, integrate them into your teaching methodology and explore their capabilities. Revert to your prior approach if the AI tools do not fulfill your needs, or try alternative options. Revert to your prior approach if the AI tools do not fulfill your needs, or try alternative options. Gradually insert these tools into your process, making any necessary adjustments. Revert to your prior approach if the AI tools do not fulfill your needs, or try alternative options.
Evaluate results to determine success. Don't hesitate to utilize the AI tool's feature for gathering and examining data in the classroom. By doing so, you can make more informed decisions regarding your teaching strategy.
By using these tips, you can optimize the use of AI tools in teaching and provide an improved learning experience for your students. AI tools should not be considered substitutes for human teachers but rather as powerful tools to enhance teaching and learning.
Advantages of using AI in teaching
If you remain unconvinced about using AI tools in teaching, consider the additional benefits that AI can bring to education. Undoubtedly, one of the most significant benefits of AI for teachers is time-saving. These types of tools assist teachers in saving time and accelerating numerous administrative tasks, enabling them to allocate their attention to the most crucial aspect of teaching, fostering relationships with their students, and creating immersive learning environments.
Additionally, AI facilitates personalized learning methods that cater to each student's distinct needs and requirements. AI tools like Gradescope and Formative AI can track student progress, identify strengths and weaknesses, and adjust lesson plans to meet each student's needs. This ensures that every student receives the appropriate attention and support for academic success.
Data-Driven Insights: The majority of AI tools can analyze and share information on student performance, behavior, and engagement. This information assists educators in recognizing knowledge gaps, tracking progress, and modifying teaching methods accordingly.
Featured image credit: It was created with DALL-E 3 on the Bing search engine.