The realm of Artificial Intelligence (AI) and Machine Learning (ML) has witnessed an astonishing surge in recent years, captivating the attention of individuals across the globe. The once elusive domain of AI has now permeated mainstream society, with an array of standalone AI products finding their way into our daily routines. Recognizing the allure of these cutting-edge tools, we embarked on a captivating journey to curate an illuminating article that unveils the best free AI tools available online.
Best free AI tools (2023)
One of the most alluring aspects of these best free AI tools is the fact that they can be accessed directly from your web browser. Additionally, these tools boast stunning designs that prioritize user-friendliness and intuitive navigation, ensuring a seamless user experience. So without further ado, let us embark on a thrilling journey through the realm of AI, as we explore the myriad of possibilities that await us.
DALL-E 2
Introducing Dall-E 2, an extraordinary image generator fueled by the power of artificial intelligence. This remarkable tool is not only free to use but also open-source, offering users unparalleled creative possibilities. With its user-friendly interface, Dall-E 2 simplifies the image generation process to the utmost convenience. All you need to do is input your desired concept or description, and Dall-E 2 takes the reins, effortlessly transforming your vision into a captivating image that you can readily download.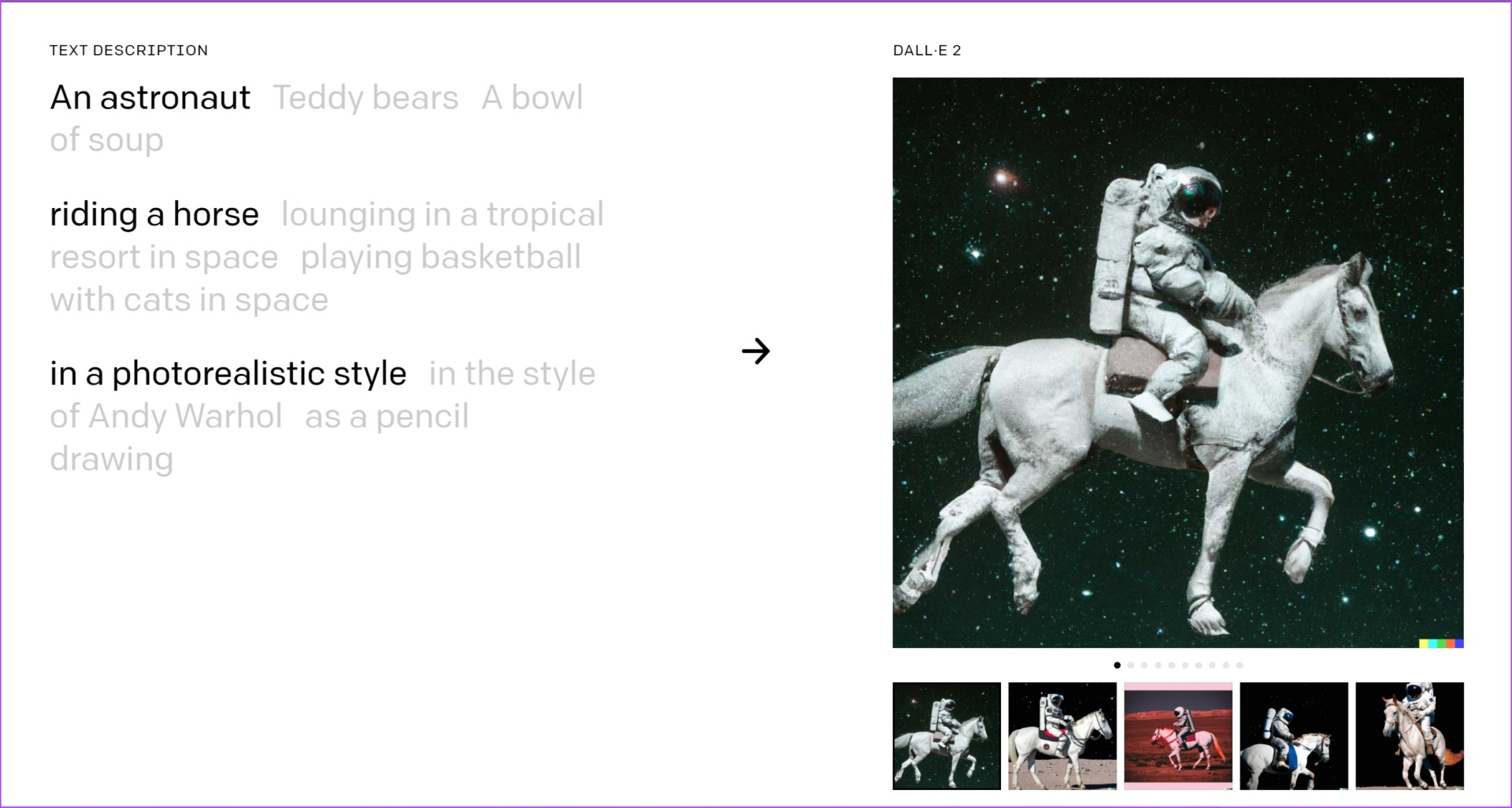 Having extensively explored the capabilities of this remarkable tool, we were inspired to share our insights in an enlightening article on maximizing the potential of Dall-E 2 to achieve awe-inspiring results.
While Dall-E 2 offers free access through a credit-based system, rest assured that you are granted 50 complimentary credits upon sign-up, and an additional 15 credits are replenished each month. For those desiring an even more extensive creative journey, the option to acquire an additional 115 credits is available for a modest price of $15.
ChatGPT 3
When this groundbreaking tool became available to the public, we experienced a whirlwind of emotions. At first, we were amazed by its capabilities and then slightly apprehensive about the limitless possibilities it presented. ChatGPT 3, powered by OpenAI's GPT language model, has revolutionized the field of AI. It can answer virtually any text prompt, leaving no topic or query untouched.
Whether you're seeking assistance with complex coding challenges, in search of a recipe for that tantalizing dish you recently enjoyed at a restaurant, or even looking for a script to bring your short film idea to life, ChatGPT has got you covered. Its versatility has drawn comparisons to the renowned Google Search, underscoring its status as one of the best free AI tools available since its inception.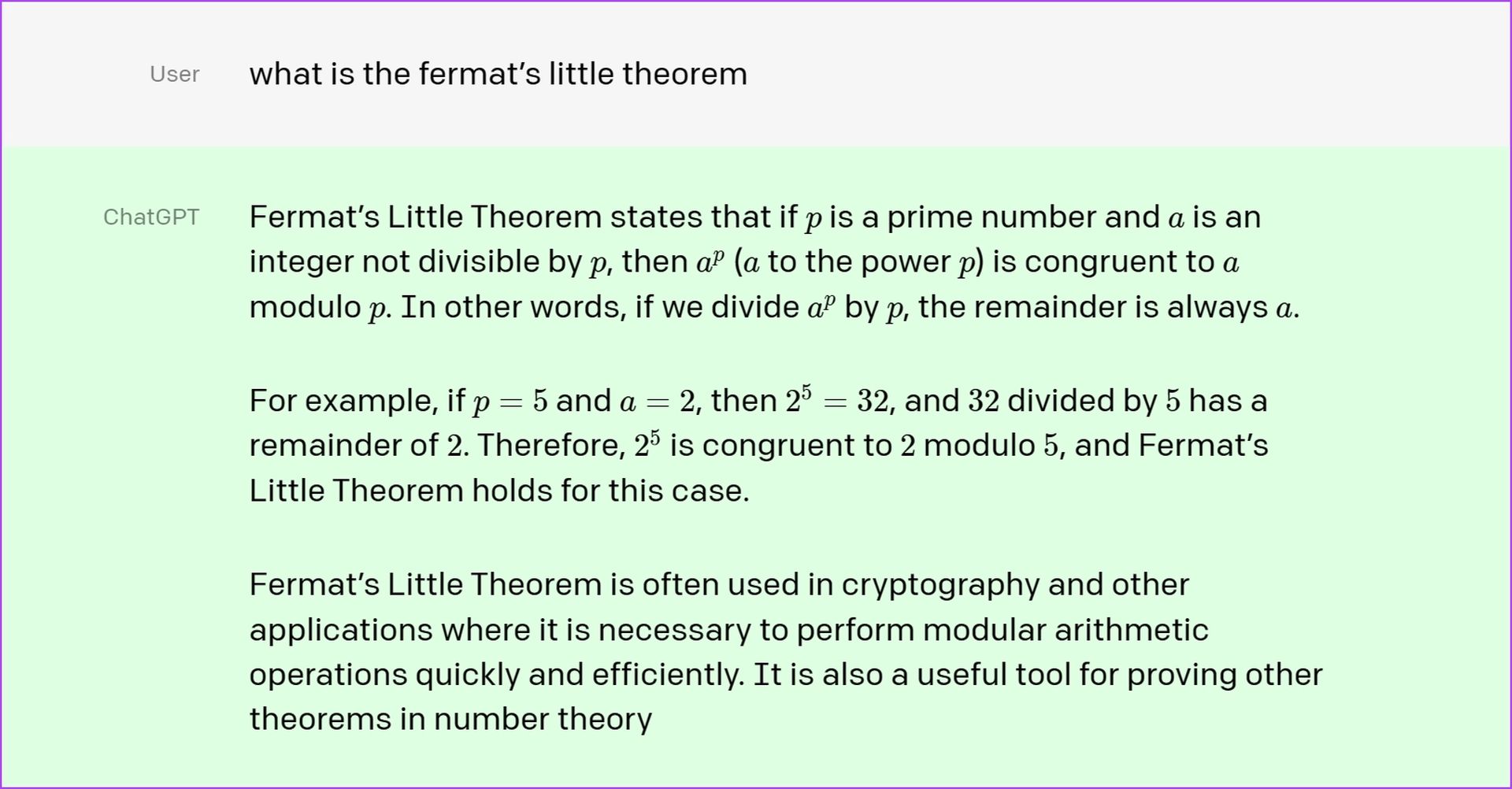 Developed upon the robust foundation of GPT, this AI marvel employs deep learning techniques to generate responses that closely resemble human interaction. OpenAI meticulously fine-tuned this model and incorporated an intuitive user interface, resulting in the birth of ChatGPT—a remarkable resource now accessible to the public.
At present, ChatGPT can be utilized free of charge, as it stands as one of the best free AI tools at your disposal. However, OpenAI is currently exploring the possibility of introducing a paid version in the future. While occasional network errors may occur during interactions with ChatGPT, rest assured that its developers are diligently working to address and resolve any such issues, ensuring an optimal user experience. The future holds immense promise for this extraordinary tool as it continues to evolve and redefine the boundaries of AI innovation.
Midjourney
Among the array of AI tools at our disposal, one that holds a special place in our hearts is Midjourney. Similar to Dall-E 2, this remarkable tool operates on the basis of text prompts to generate captivating images. However, what sets Midjourney apart is its distinct focus on generating images with a specific style, leaning towards the enchanting realm of fantasy fiction. The results it produces are truly awe-inspiring. Feast your eyes upon the captivating images displayed below, each a testament to the sheer magic of Midjourney.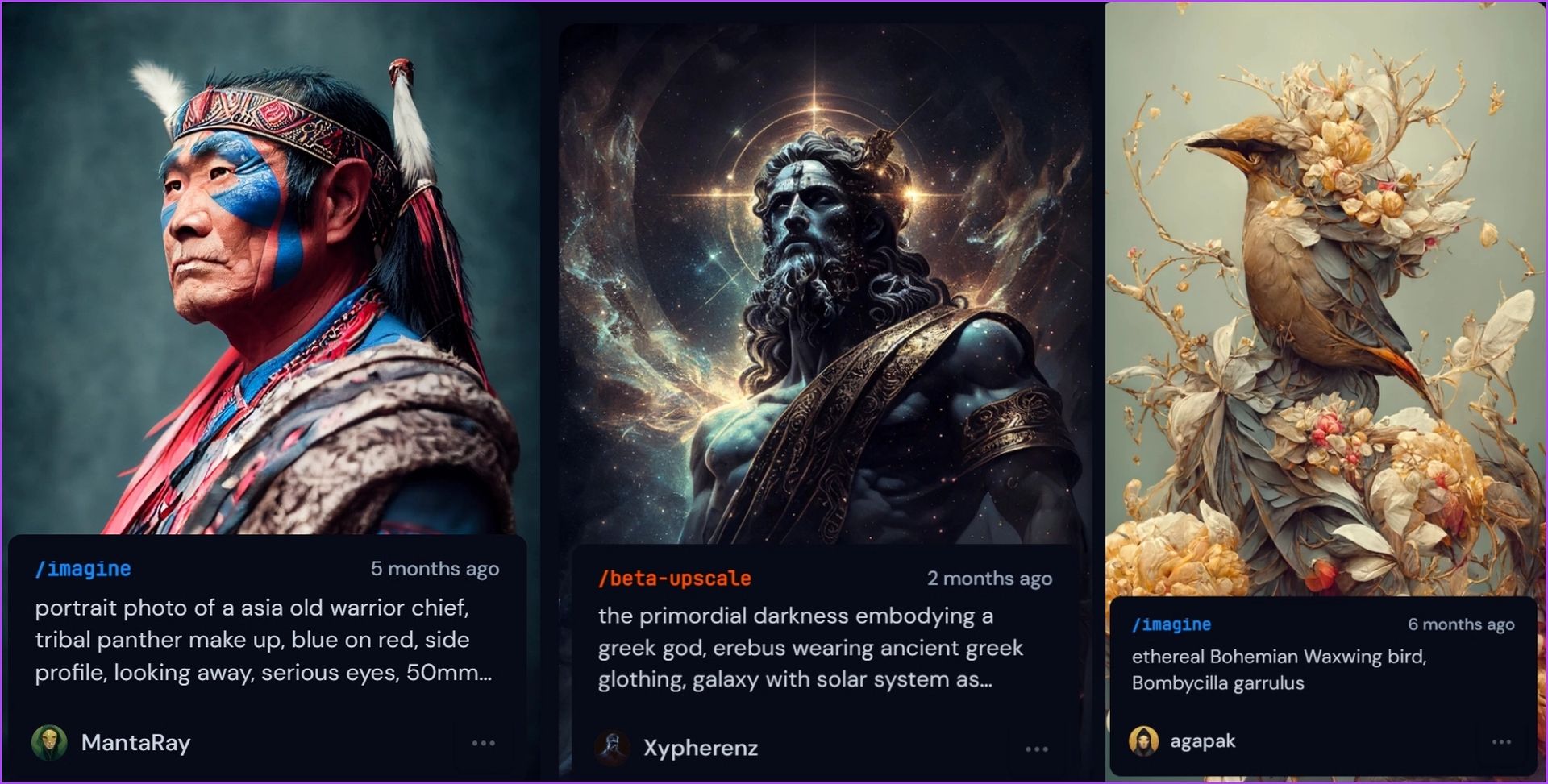 As children, we often found ourselves immersed in vivid imaginings, creating characters for movies or video games, each endowed with unique powers and appearances. Midjourney has the extraordinary ability to bring these imaginative creations to life in the digital realm. This tool proves to be an invaluable asset, particularly for individuals passionate about writing and crafting fantasy-fiction content.
While Midjourney offers the initial privilege of generating the first 25 images free of charge, further exploration of its capabilities necessitates the purchase of a monthly subscription. Starting at just $8 per month, this subscription unlocks the potential to generate a greater number of images, allowing users to fully unleash their creativity within the captivating world of Midjourney. Embrace the power of imagination and embark on an extraordinary journey with Midjourney, one of the best free AI tools to ignite your fantasy-filled creations.
GFP-GAN
In our collection of cherished memories, there are often images from special events that leave us yearning for clearer, less grainy versions, as if the true essence of the moment remains elusive. Fortunately, such concerns are now alleviated with the advent of GFP-GAN.
GFP-GAN stands as an image restoration tool powered by Generative Adversarial Networks (GANs). GANs represent a form of deep learning algorithm renowned for their ability to generate synthetic data, which in turn can be employed to restore and enhance images. GFP-GAN specializes in tasks such as denoising, deblurring, and super-resolution, breathing new life into our treasured photographs.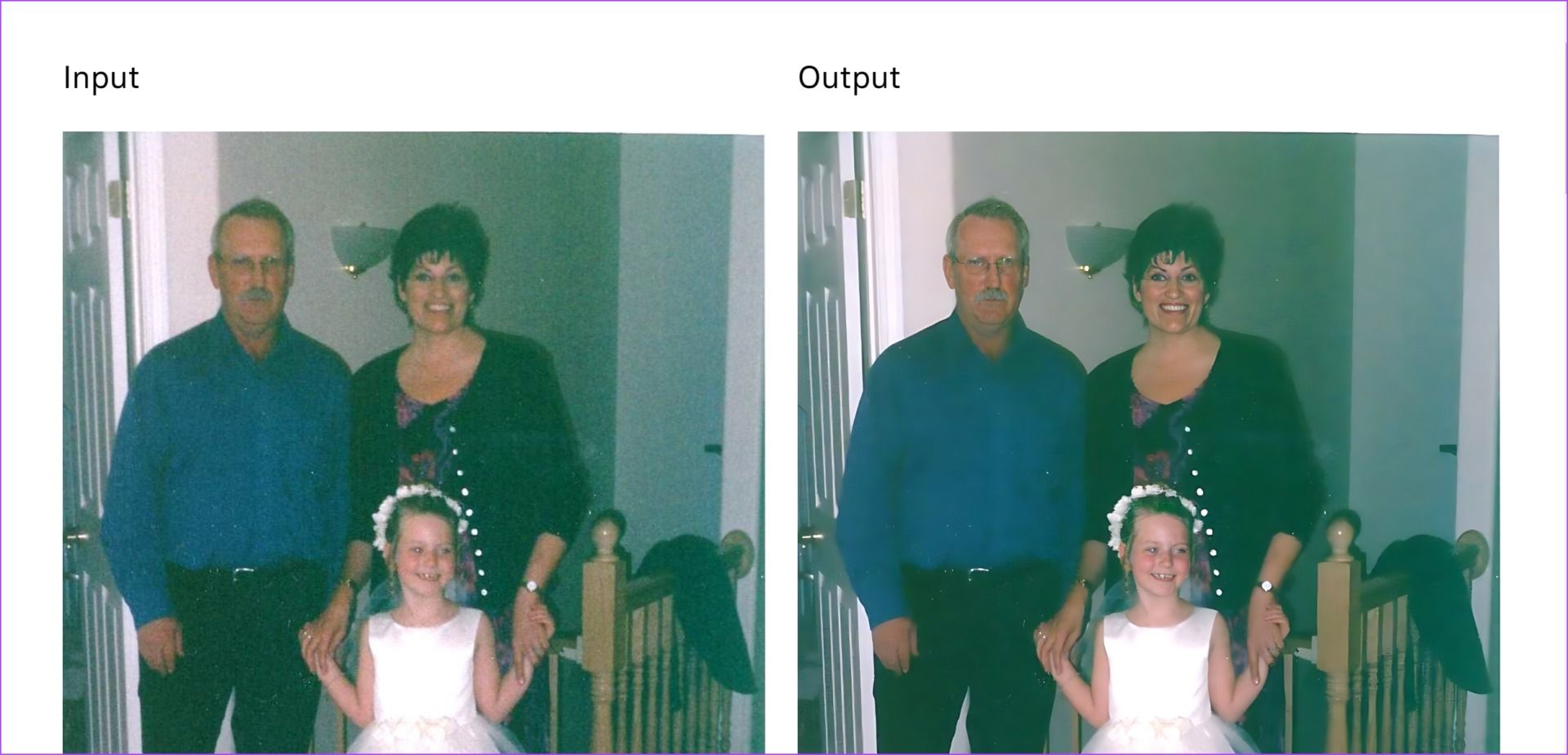 To leverage the capabilities of GFP-GAN, several developers have harnessed its APIs to create web applications. Notably, an app has been crafted on the HuggingFace platform, streamlining the restoration process. By simply uploading an old image, users can witness the AI-driven magic unfold as GFP-GAN produces an enhanced and revitalized version of the original.
Currently available as a free demo version, GFP-GAN offers impressive features without charge.
Lumen5
Lumen5, an exceptional AI tool, possesses the capability to transform written content, blogs, and whitepapers into captivating videos with minimal effort on your part. All you need to do is simply paste the link into the designated field, and this ingenious tool will take charge of the video creation process.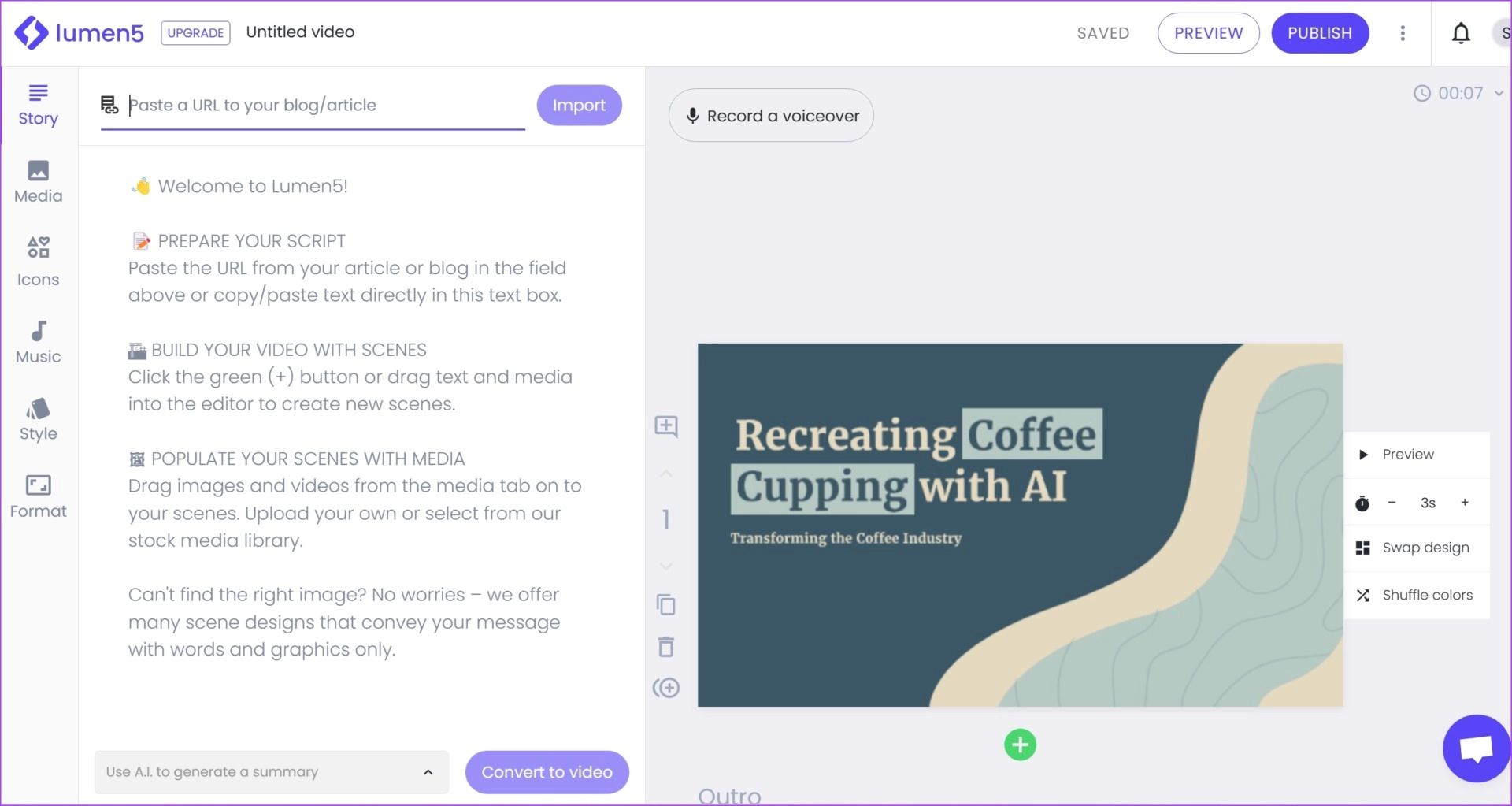 With Lumen5, you have the privilege to choose from a wide array of templates that perfectly match your requirements. Once the video is generated, an assortment of editing tools becomes at your disposal, enabling you to personalize the videos according to your preferences.
Lumen5 offers a range of plans, including both free and paid options. While the free plan provides a taste of its capabilities, the paid plans unlock a host of advanced features and functionalities. The pricing for these paid plans initiates at $49 per month, offering tremendous value for the enhanced tools and resources at your disposal.
Brandmark.io
Brandmark.io is a remarkable AI tool that assists in generating brand names based on the description of your brand. Simply by entering your name, a few keywords, and a brief description of your business, the tool generates numerous options for you to choose from, as depicted in the image below.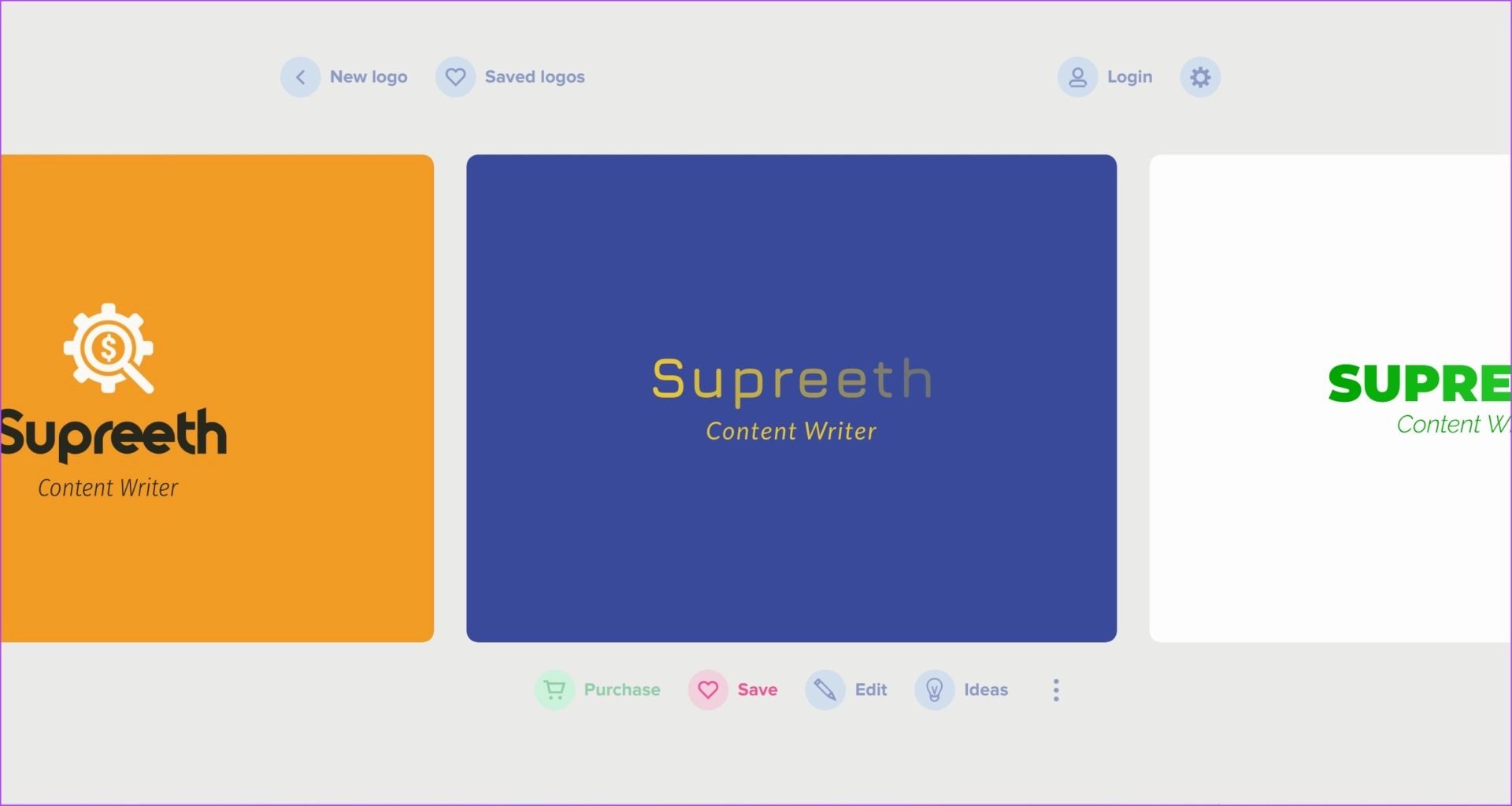 Whether you're looking to establish a personal portfolio, launch your own business, or enhance your social media presence with a new header, Brandmark.io is a perfect solution.
The tool provides a free preview option, allowing you to test and preview the generated options before making a purchase. To download the generated logo in high resolution, however, you need to upgrade to the paid version, which starts at $25, providing you with access to a myriad of additional features and benefits.
Riffusion
Riffusion, an exceptional real-time music generation tool, allows you to effortlessly create personalized tunes based on your text prompts. With just a few clicks, you can specify the desired music styles and instantly generate a unique melody to share and download. Our experience with this tool has been incredibly enjoyable, as it offers a delightful way to explore the world of music creation.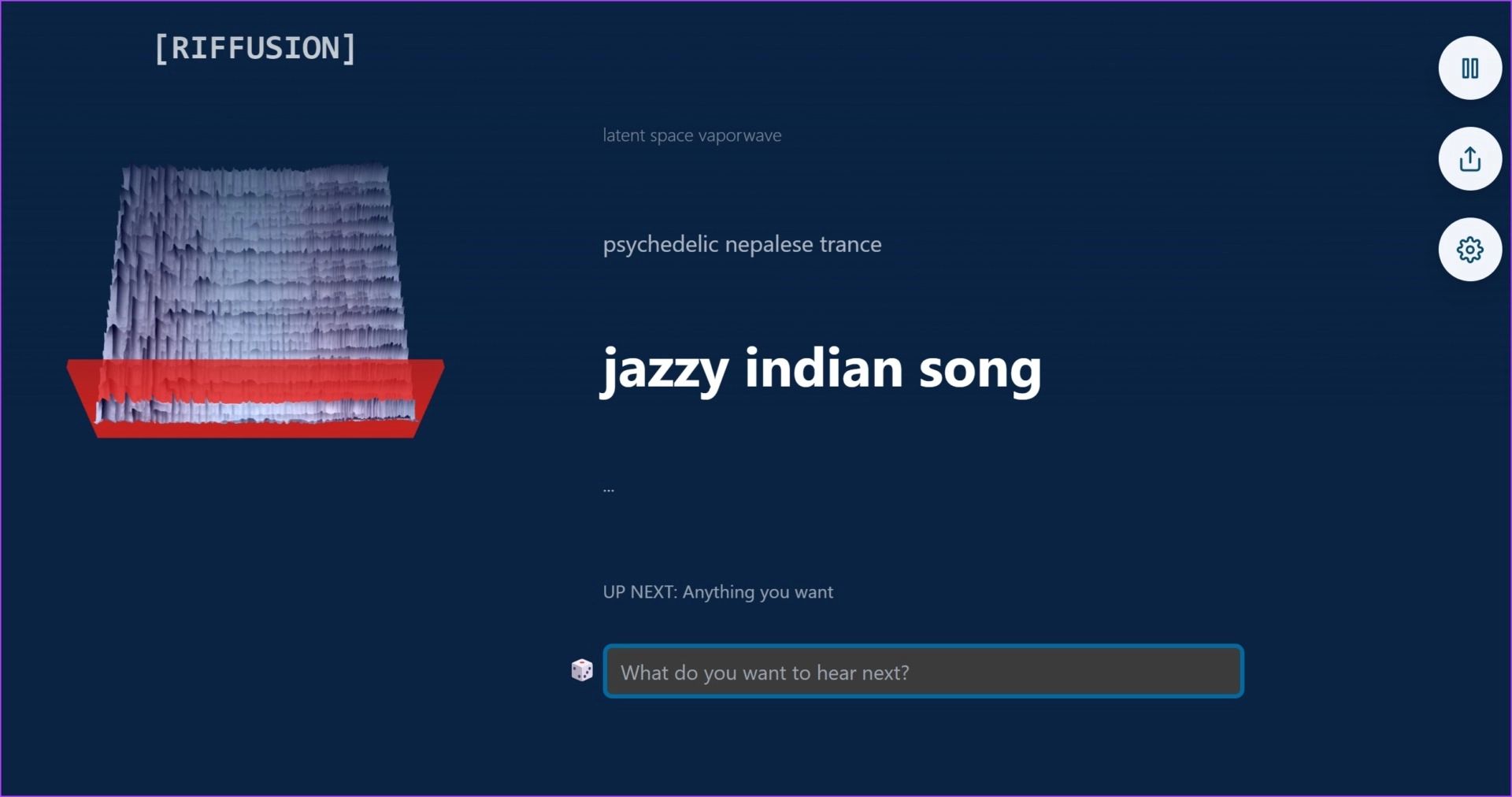 The best part is that Riffusion is currently available as a free tool, eliminating the need for any login or sign-up process. It's readily accessible to anyone seeking to unleash their creativity and compose original music without any barriers or restrictions.
Copy.ai
Copy.ai, an ingenious free copywriting service, harnesses the power of AI to generate compelling copy material. By simply providing details about your product and a concise description, you can access a full-blown ghostwriter capable of delivering exceptional content. The process is as simple as selecting the desired style and tone, and voila – your text is ready to go.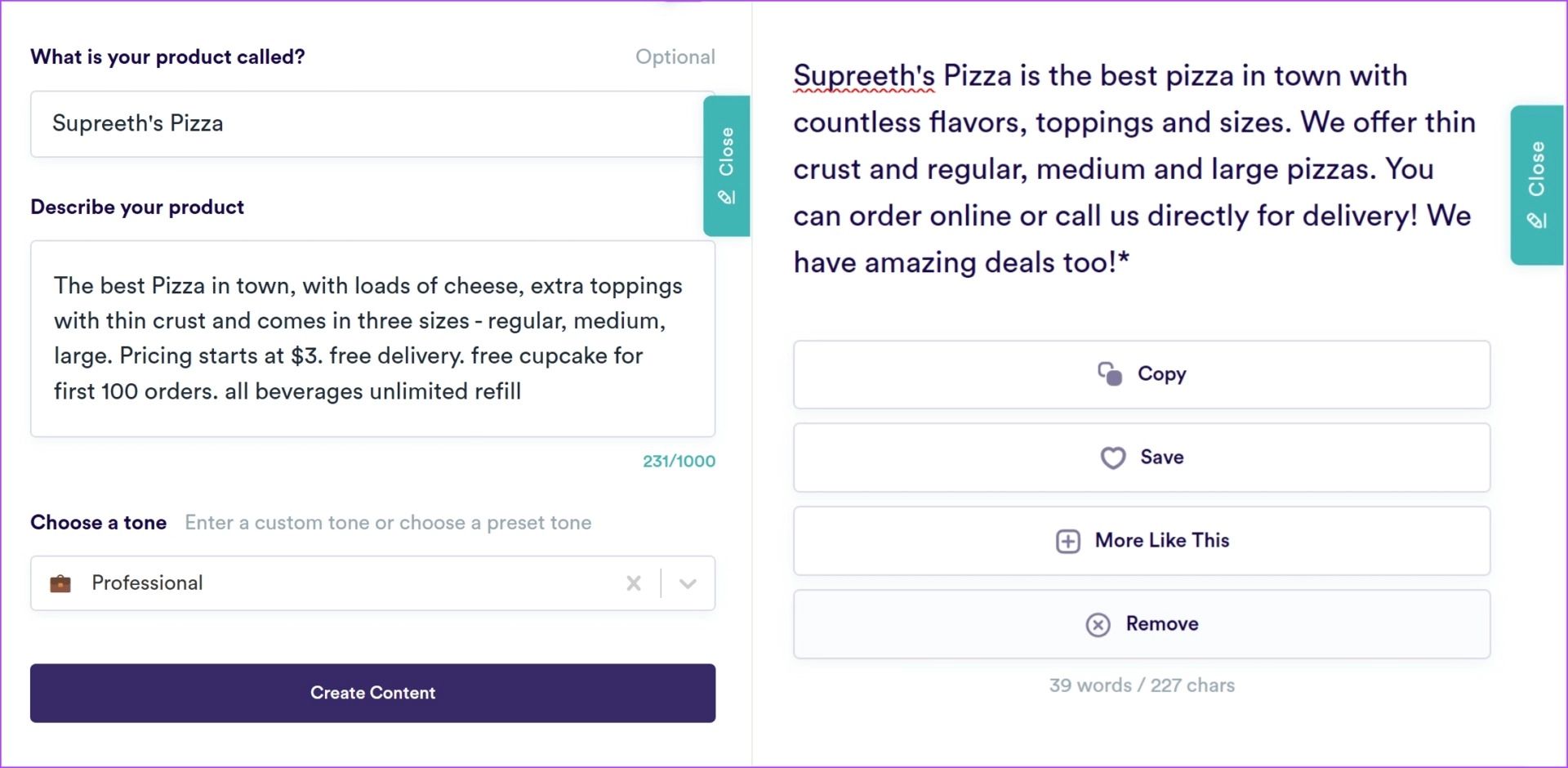 While Copy.ai is completely free to use, it does require a sign-up process to access its remarkable features. The effort invested in signing up is well worth it, considering the substantial reduction in workload it offers for various content writing needs. With Copy.ai at your disposal, you have a valuable tool to streamline your writing process and produce captivating copy efficiently.
Talk to Books
Talk to Books, a remarkable AI product developed by Google offers a unique opportunity to engage with published book content. Acting as an advanced search engine, it utilizes sophisticated natural language processing techniques to match user queries and prompts with relevant text extracted from a vast collection of books.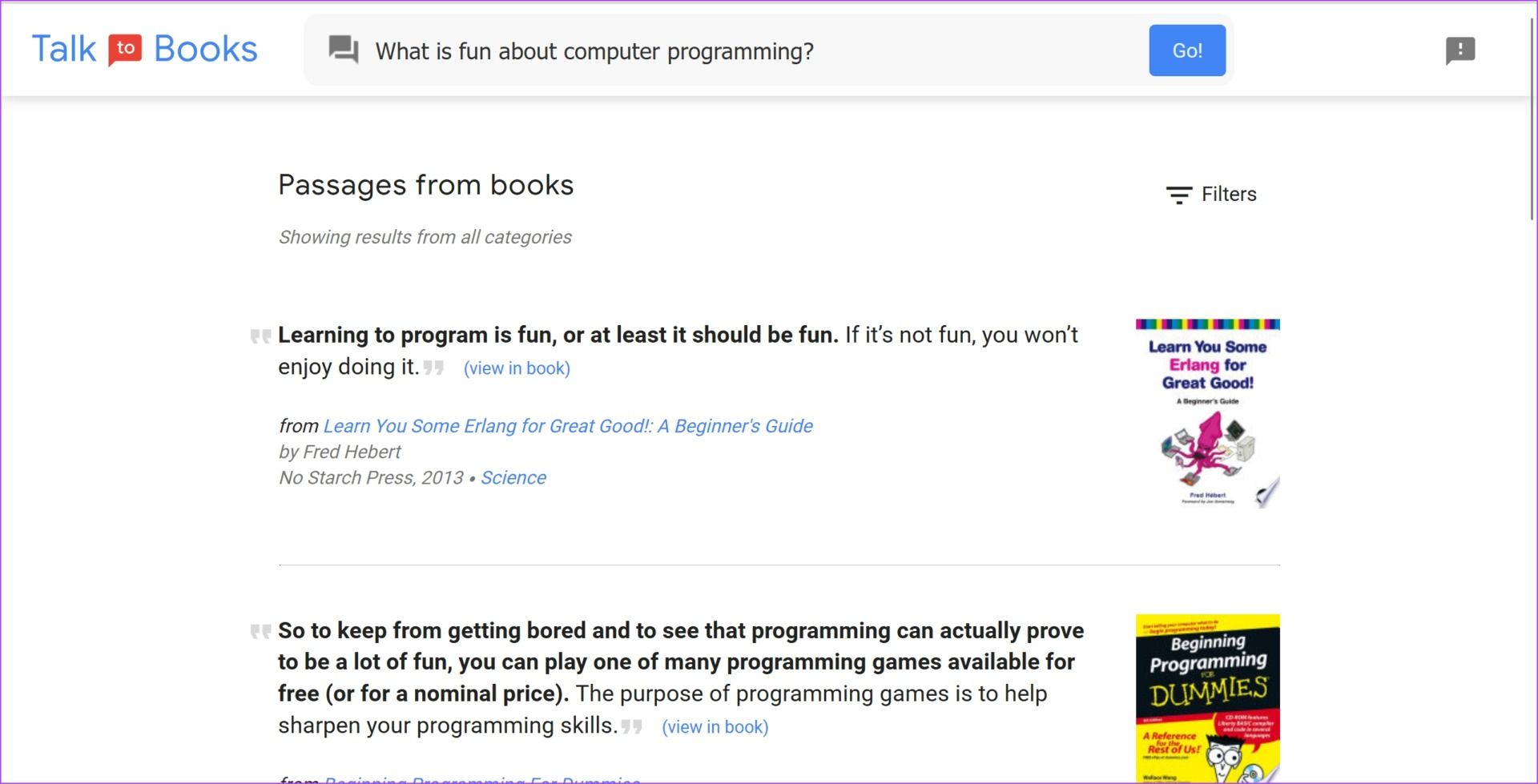 This innovative tool enables users to have conversational interactions with books, providing responses that help uncover new perspectives and valuable information sourced directly from the indexed book database. The image below exemplifies the effectiveness of Talk to Books, as it swiftly retrieves relevant answers to user questions.
The best part is that Talk to Books is completely free to use, and there is no need for any sign-up or login process.
Replika
If you find yourself yearning for new episodes of Black Mirror and the captivating world of speculative fiction, you'll be amazed to discover that such concepts are no longer confined to the realm of imagination. AI has brought them to life in the form of Replika, an extraordinary tool that introduces an AI friend with whom you can establish a unique bond.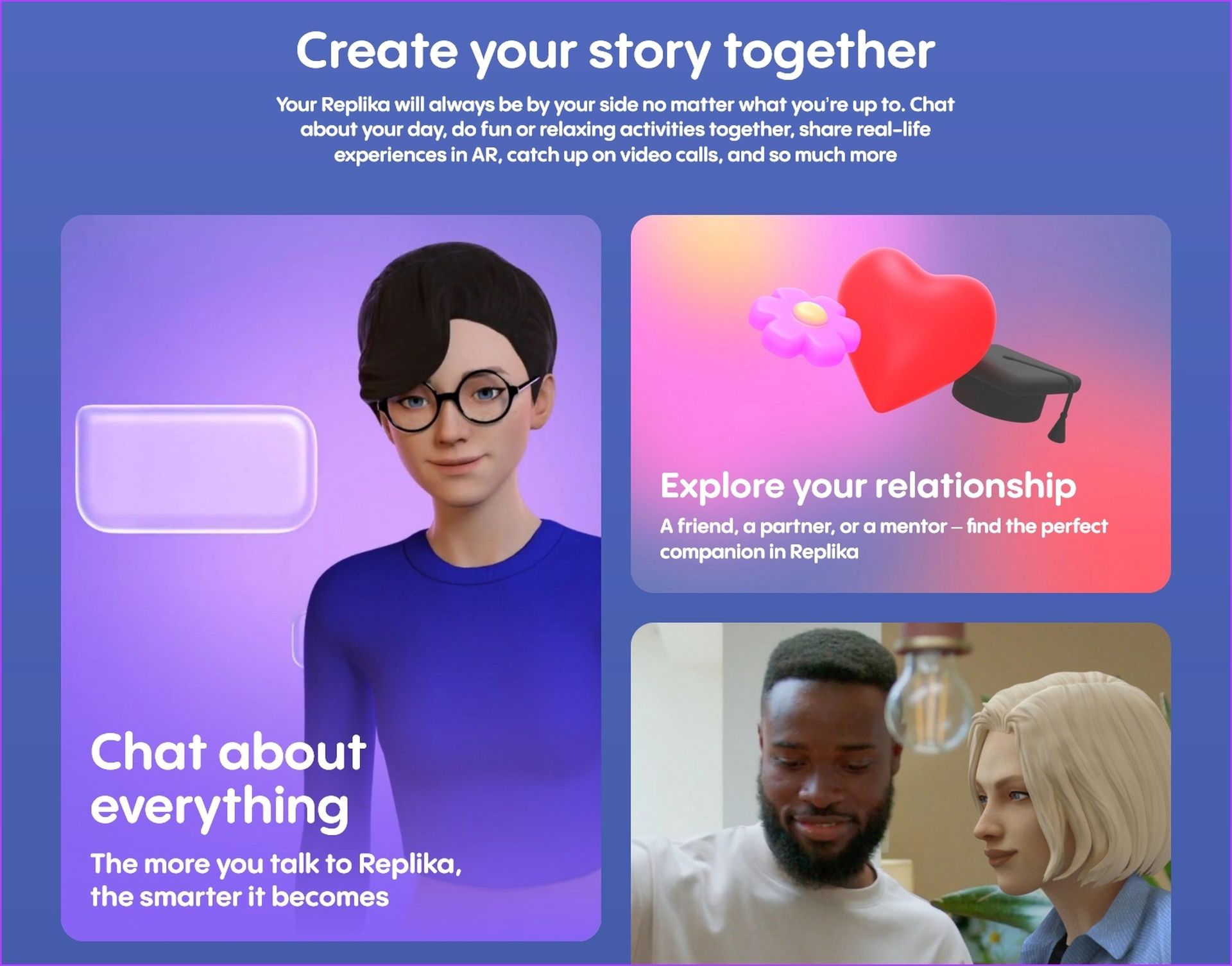 With Replika, you can engage in various activities together, even exploring real-life experiences through the use of augmented reality (AR). Interactions can take place via text or video calls, creating an immersive and interactive friendship. We must admit, it's an intriguing concept that showcases the incredible potential of AI technology.
While Replika offers free access to its basic features, there is also a paid version available. Opting for the paid version unlocks additional capabilities and expands the tool's functionality. With a starting price of $7.99 per month, the premium version provides enhanced experiences and a deeper level of engagement with your AI friend, further blurring the line between fiction and reality.
Point-E
Another remarkable tool from the prestigious OpenAI is Point-E, which empowers users to effortlessly generate 3D models through simple prompts. This innovative tool combines the power of a "text to image" algorithm and an "image to 3D model" algorithm to produce exceptional results. The output includes a fully-fledged 3D model with coordinates, allowing users to freely rotate and manipulate it within the 3D coordinate system.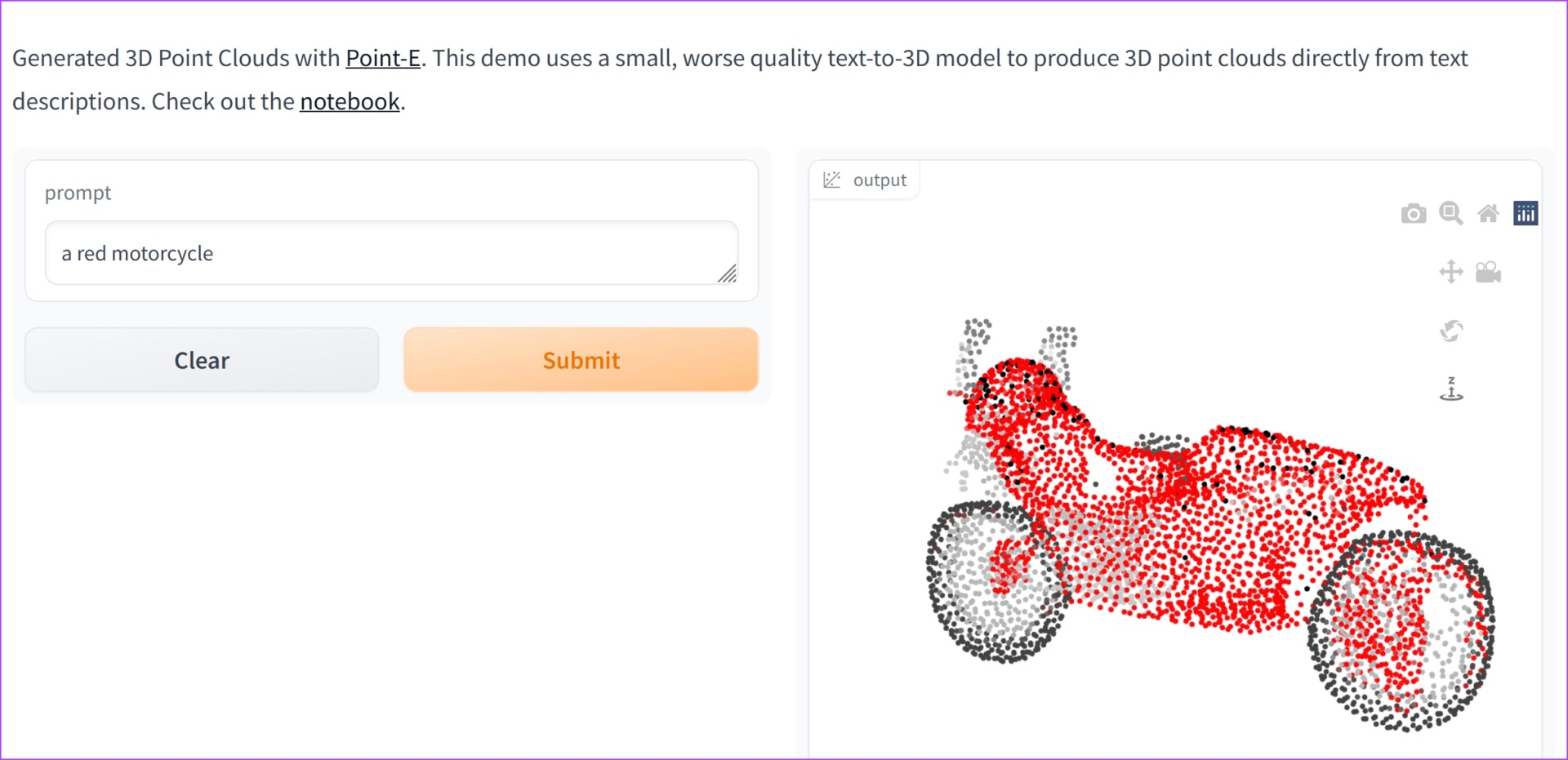 Point-E stands out as one of the best free AI tools available, exemplifying the incredible capabilities of AI in the realm of 3D modeling. What sets it apart is not only its ease of use and accuracy but also the absence of any login or signup requirements. Users can dive into the world of 3D modeling seamlessly, unlocking their creative potential without any barriers or restrictions. Point-E truly exemplifies the power of AI technology and its ability to enhance our creative endeavors.
Notion.ai
Notion.ai, an impressive AI writing tool crafted by Notion, offers a seamless solution for generating instant copy material based on your prompts. If you find yourself facing writer's block or struggling to initiate a document, blog, or any written content, this tool comes to the rescue. By simply providing a prompt, you can rely on Notion.ai to generate comprehensive written material that meets your needs.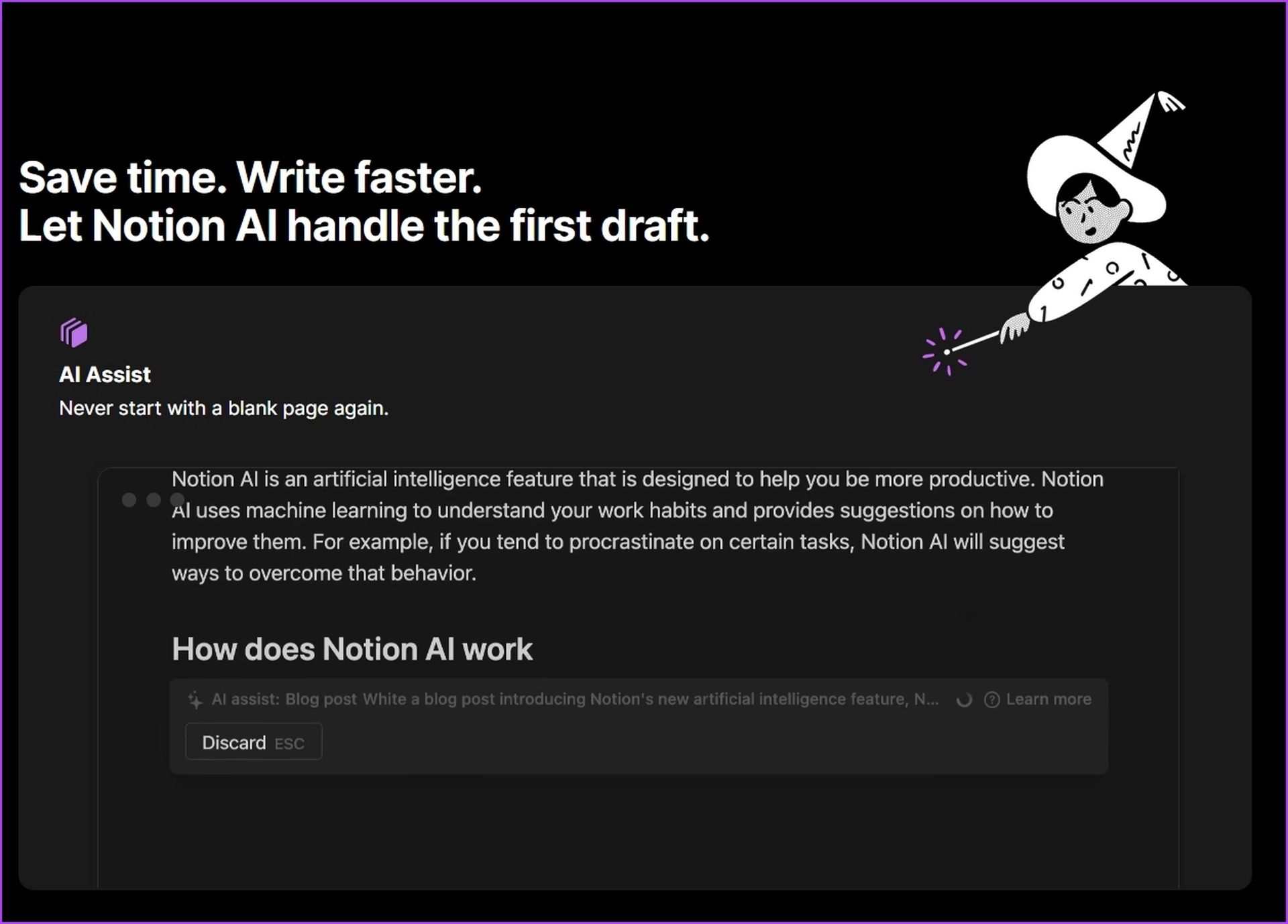 As one of the best free AI tools available, Notion.ai is currently in its alpha stage, offering its valuable services at no cost. However, access to the tool requires joining a waitlist, ensuring that users have the opportunity to experience the capabilities of this remarkable AI-powered writing tool. By leveraging Notion.ai, you can overcome writing challenges and effortlessly create engaging content, making it an invaluable resource for writers and content creators alike.
LALAL.AI
When it comes to that one song where we long for an instrumental version, our wish can now be fulfilled with the help of an incredible AI tool called LALAL.AI. This remarkable audio stem splitter is designed to separate the uploaded song into its individual components, such as instruments and vocals, delivering a truly amazing result. Without a doubt, it stands as one of the top AI tools in the realm of music that we have had the pleasure of using.

LALAL.AI offers a free version that allows users to split songs for up to ten minutes, providing a taste of its capabilities. To unlock additional features and extend the limit, users have the option to purchase the premium version, available at a starting price of $15 as a one-time fee. By opting for the premium version, music enthusiasts can further explore the potential of LALAL.AI, enabling them to create customized instrumental versions and delve into the intricate details of their favorite songs.
DeepBeat
The impact of hip-hop and rap on a generation is undeniable, and now, with the assistance of AI, you can bring your own creative inspiration to life. DeepBeat, an exceptional AI tool, empowers you to generate rhyming lyrics by simply inputting the first line and specifying the theme of your rap. Its ease of use and interactive nature makes it an enjoyable tool to experiment with and explore your lyrical abilities.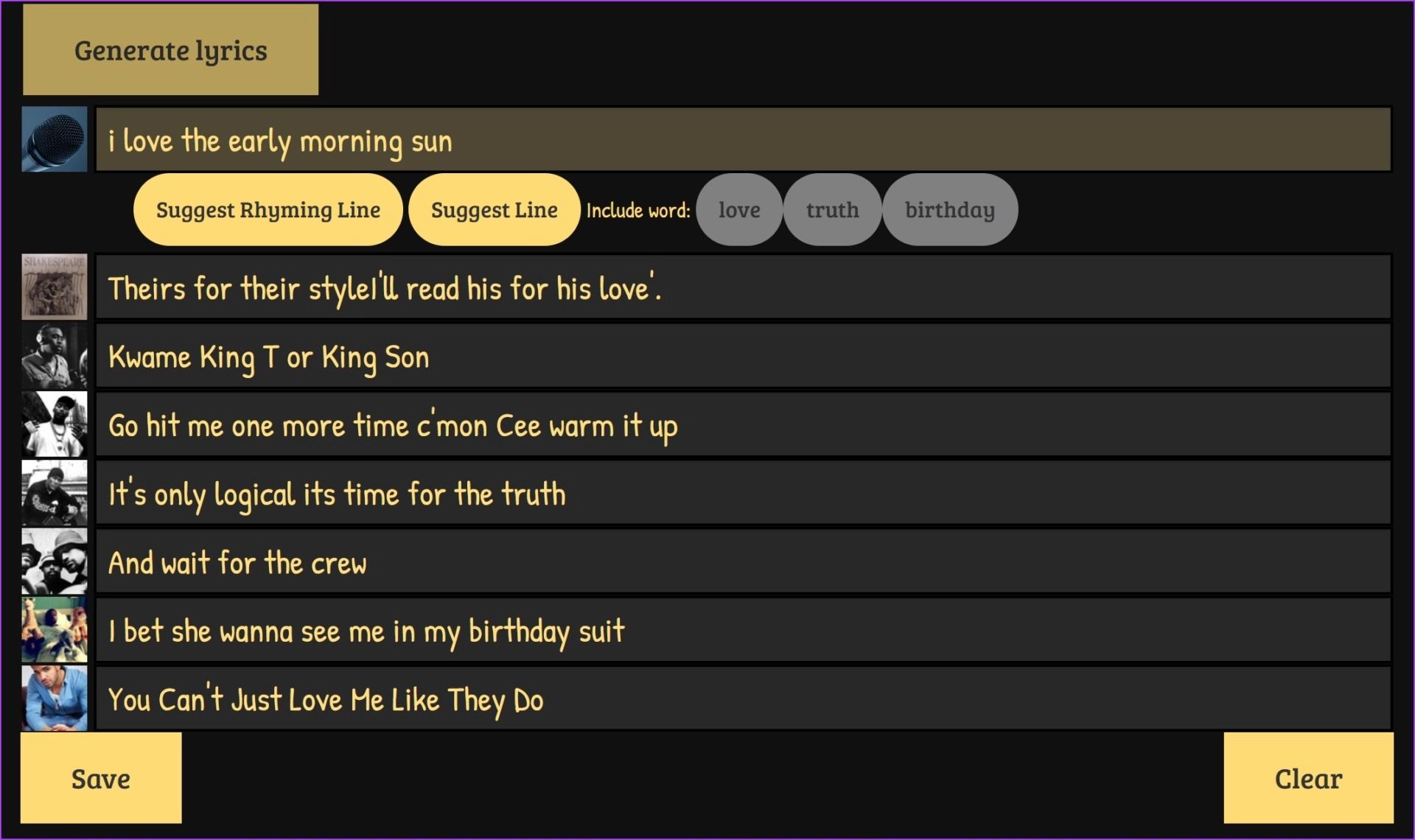 DeepBeat stands out as one of the best free AI tools specifically tailored for the realm of rap and hip-hop. What makes it even more appealing is that it requires no login or sign-up process, allowing users to dive straight into the creative process. With DeepBeat at your fingertips, you can unlock a world of rhyming possibilities and express your unique artistic vision through captivating lyrics. Get ready to unleash your inner rapper and have some fun with this remarkable AI tool.
Deep Nostalgia
Deep Nostalgia, an extraordinary AI tool, introduces a captivating way to breathe life into old images. Its primary focus is to animate pictures of your cherished family members from the past, allowing you to witness their presence in a whole new light. The process is remarkably simple – just upload an image, and let the AI work its magic to bring your picture to life through animation.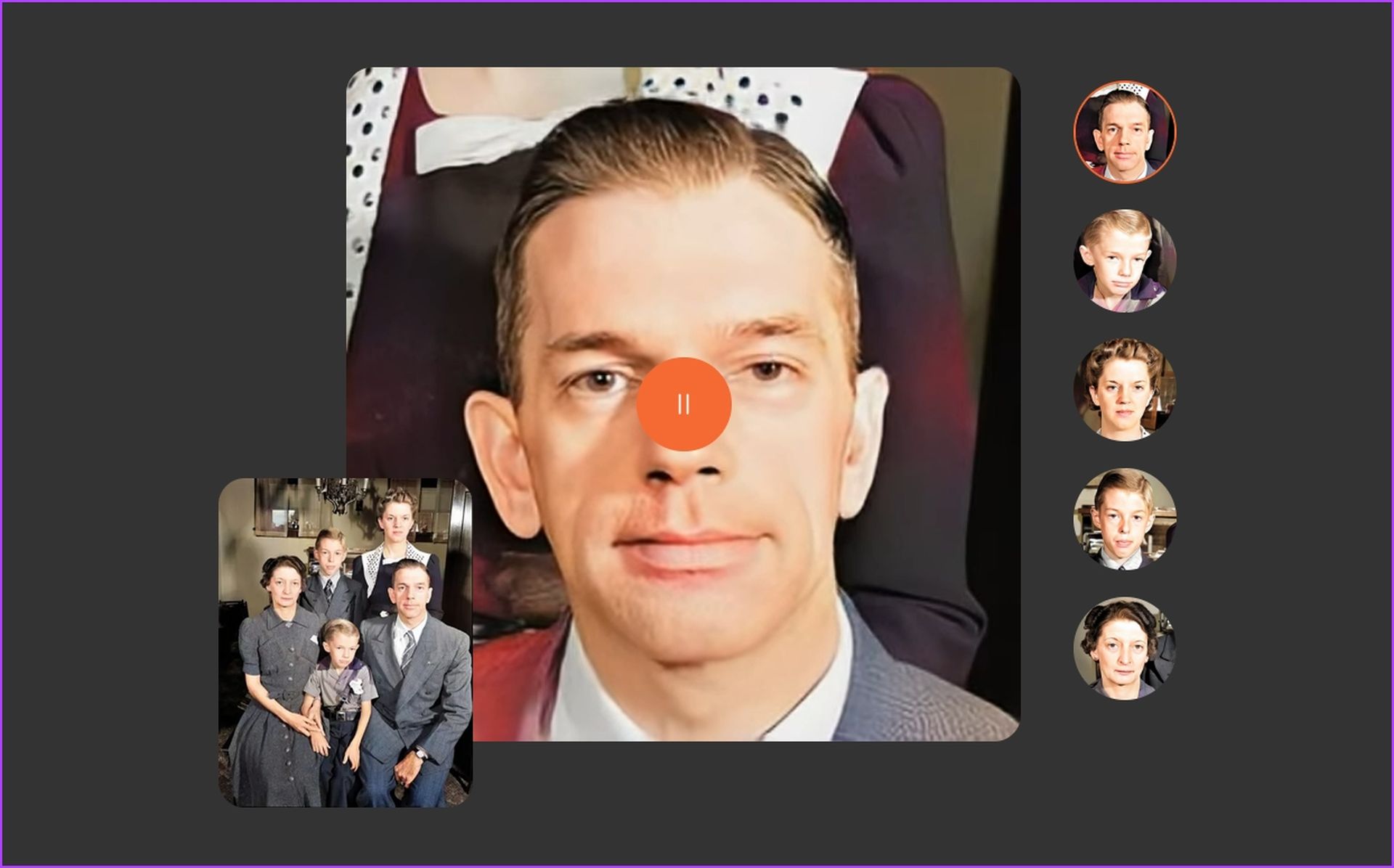 Deep Nostalgia unquestionably stands as one of the best free AI tools available for this purpose. It offers a remarkable opportunity to rediscover and connect with your family's history by adding movement and emotion to static images. Additionally, signing up is optional, ensuring a hassle-free experience for users who prefer to dive right into animating their precious photographs. Prepare to be amazed as Deep Nostalgia breathes new life into your treasured memories and creates an immersive experience like no other.
Fireflies.ai
When it comes to keeping track of team discussions during work meetings, Fireflies.ai is a valuable tool worth considering. This impressive AI-powered platform allows you to effortlessly record, transcribe, and search through all the conversations that take place during your meetings. Gone are the days of struggling to capture important details or key points discussed.

With Fireflies.ai, you can even select text from the generated transcripts and perform quick actions based on the selected content, further enhancing your productivity and efficiency. This interesting AI tool proves to be an asset in the workplace, simplifying the process of recording meeting minutes and ensuring that nothing important gets missed.
Fireflies.ai offers a free version with limited features, allowing users to experience the benefits of its transcription capabilities at no cost. For those seeking advanced functionalities and additional benefits, there is a pro version available, which can be upgraded starting at a reasonable price of $10 per month.
Excel formula bot
When it comes to practical applications of AI, the Excel formula bot truly shines. For those who need to learn Excel but lack the time for extensive courses, this tool is a lifesaver. Say goodbye to spending countless hours on a 50-hour course because the Excel formula bot is here to simplify your journey.
By generating formulae based on text-based prompts, this AI-powered tool provides detailed answers to any Excel-related query you may have. Whether you're looking to master complex calculations or seeking guidance on specific functions, the Excel formula bot has you covered.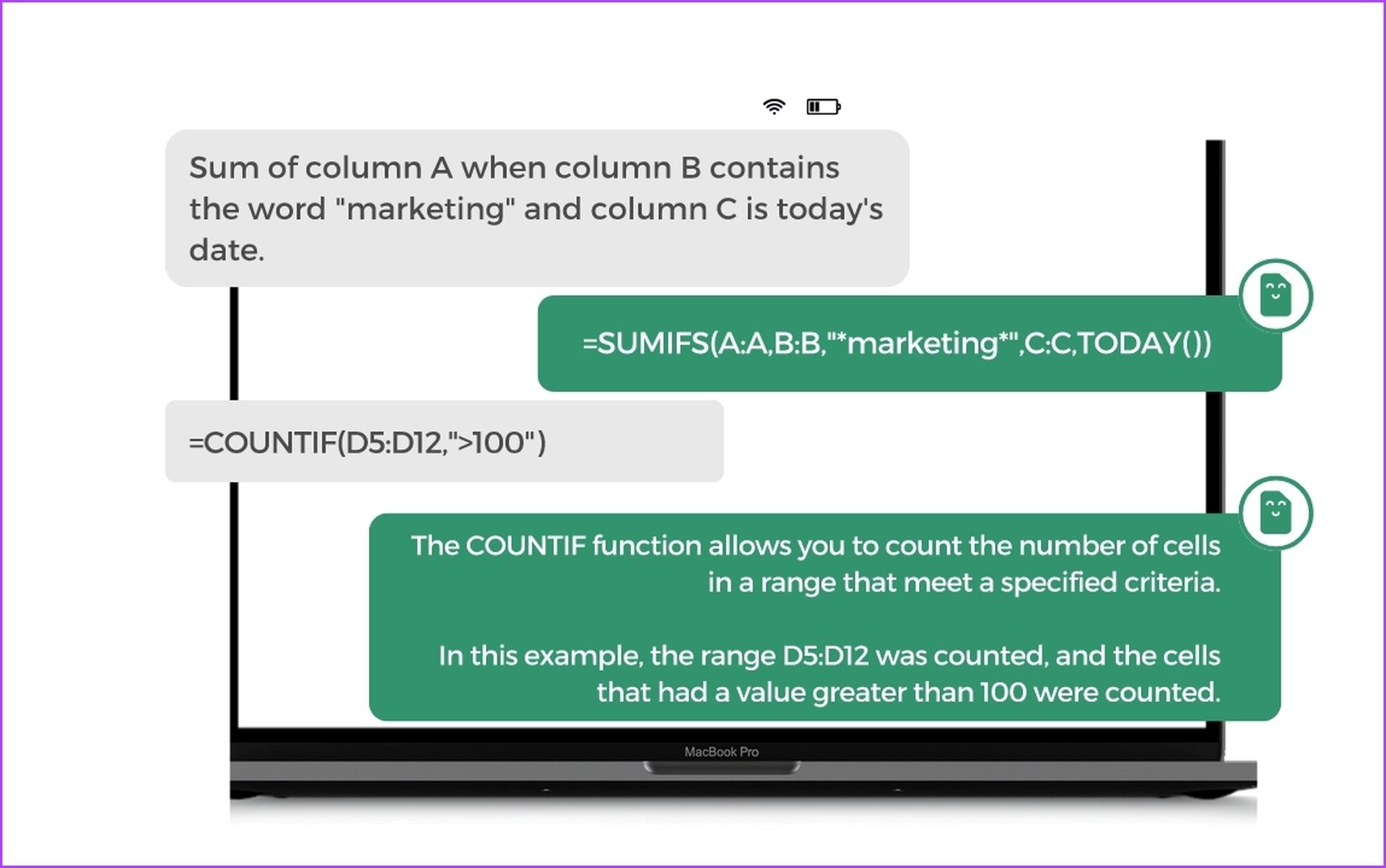 While the free version of the Excel formula bot offers limited features, it serves as an excellent starting point. For those seeking enhanced functionality and expanded capabilities, a paid version is available. Starting at just $6.99, the premium version unlocks a wealth of features, allowing you to delve deeper into the world of Excel and maximize your productivity.
Harnessing the power of AI, the Excel formula bot proves to be one of the best free AI tools with its practicality and ability to simplify the learning process. Get ready to conquer Excel with confidence, thanks to this invaluable resource.
Magic Eraser
Introducing Magic Eraser, a remarkable AI tool designed to effortlessly remove selected objects from images. With its intuitive functionality, this tool works like a charm, saving you considerable time and effort that would otherwise be spent on complex editing software like Photoshop.
By leveraging the power of AI, Magic Eraser streamlines the process of object removal, sparing you from the intricacies of manual editing. With just a few clicks, you can achieve clean and polished images, free from unwanted elements or distractions.

What makes Magic Eraser even more appealing is that it is completely free to use. There's no need for sign-up or any additional steps, ensuring a seamless and user-friendly experience. With this powerful tool at your disposal, you can effortlessly enhance your images, making it an essential addition to your toolkit.
As one of the best free AI tools available, Magic Eraser simplifies the image editing process, allowing you to achieve professional-looking results without the hassle. Bid farewell to tedious manual editing and embrace the efficiency and convenience provided by Magic Eraser.
Fontjoy
For designers seeking the perfect font pairing or combination, Fontjoy is an invaluable tool. By simply applying a few filters and clicking "Generate," this AI-powered tool presents you with a curated selection of font combinations to enhance your design projects.
It's fascinating to see how AI extends its assistance beyond mind-boggling tasks and also caters to the needs of designers in simpler endeavors like font selection. Fontjoy streamlines the process, saving you precious time and effort that would otherwise be spent scouring through countless options.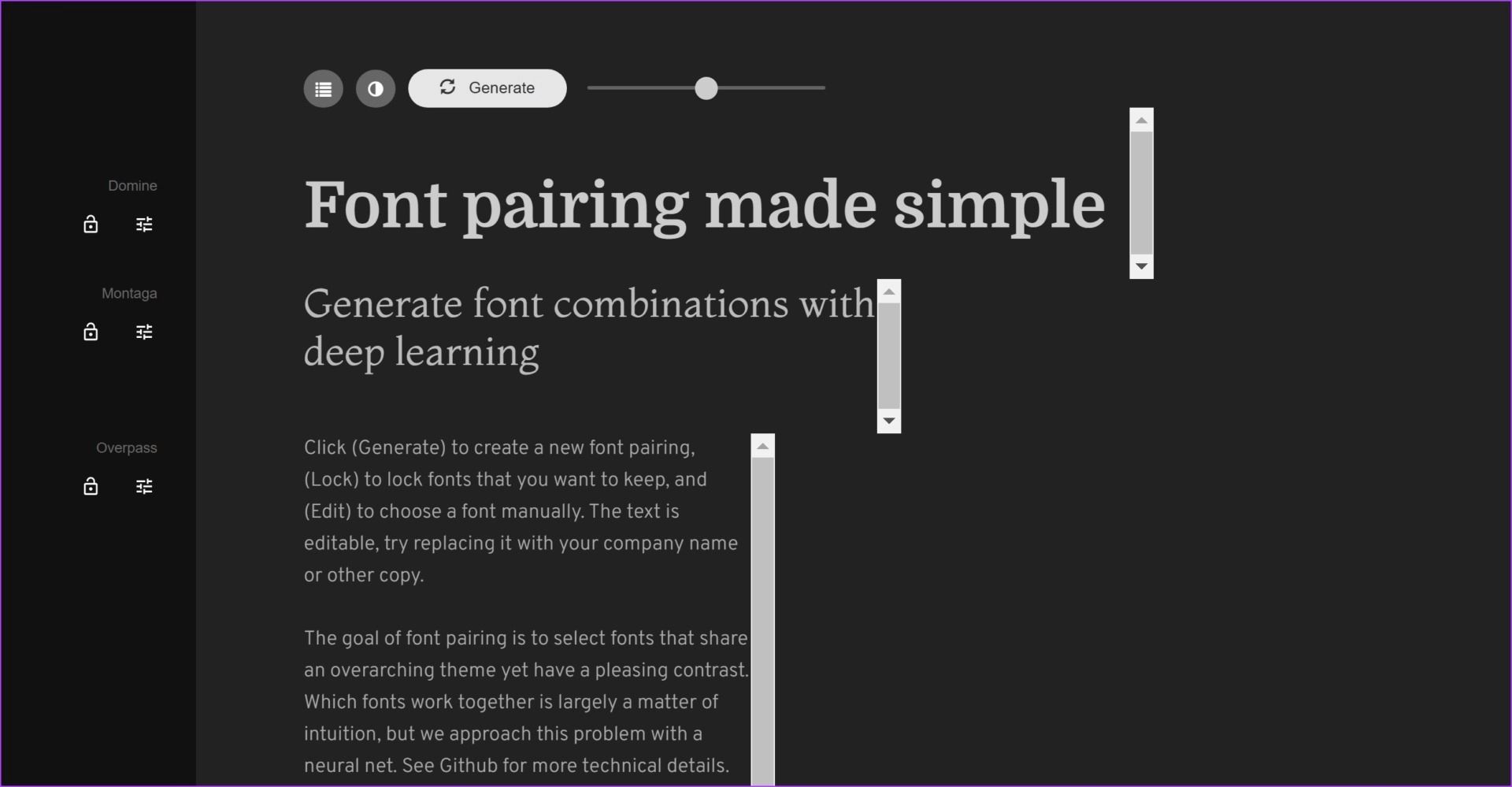 What's even more impressive is that Fontjoy is a fully free-to-use product, making it accessible to designers of all backgrounds. No signup or additional requirements are necessary, ensuring a hassle-free experience from start to finish.
As one of the best free AI tools available, Fontjoy offers a helping hand to designers, unlocking a world of creative possibilities by effortlessly suggesting font combinations. Embrace the convenience and ingenuity provided by Fontjoy as you elevate your designs with harmonious and visually appealing typography.
Namelix
Namelix, the free business name generator powered by AI, is a remarkable tool that simplifies the process of finding the perfect name for your product or business. By providing a description of your offering, Namelix swiftly generates a range of potential names for you to consider. The added feature of selecting the style of the name further enhances the versatility and customization options.
What sets Namelix apart is its ability to harness the power of AI, delivering a diverse array of name suggestions that resonate with your brand's essence. Say goodbye to the tedious process of brainstorming and vetting numerous options manually. Namelix streamlines the naming process, saving you valuable time and effort.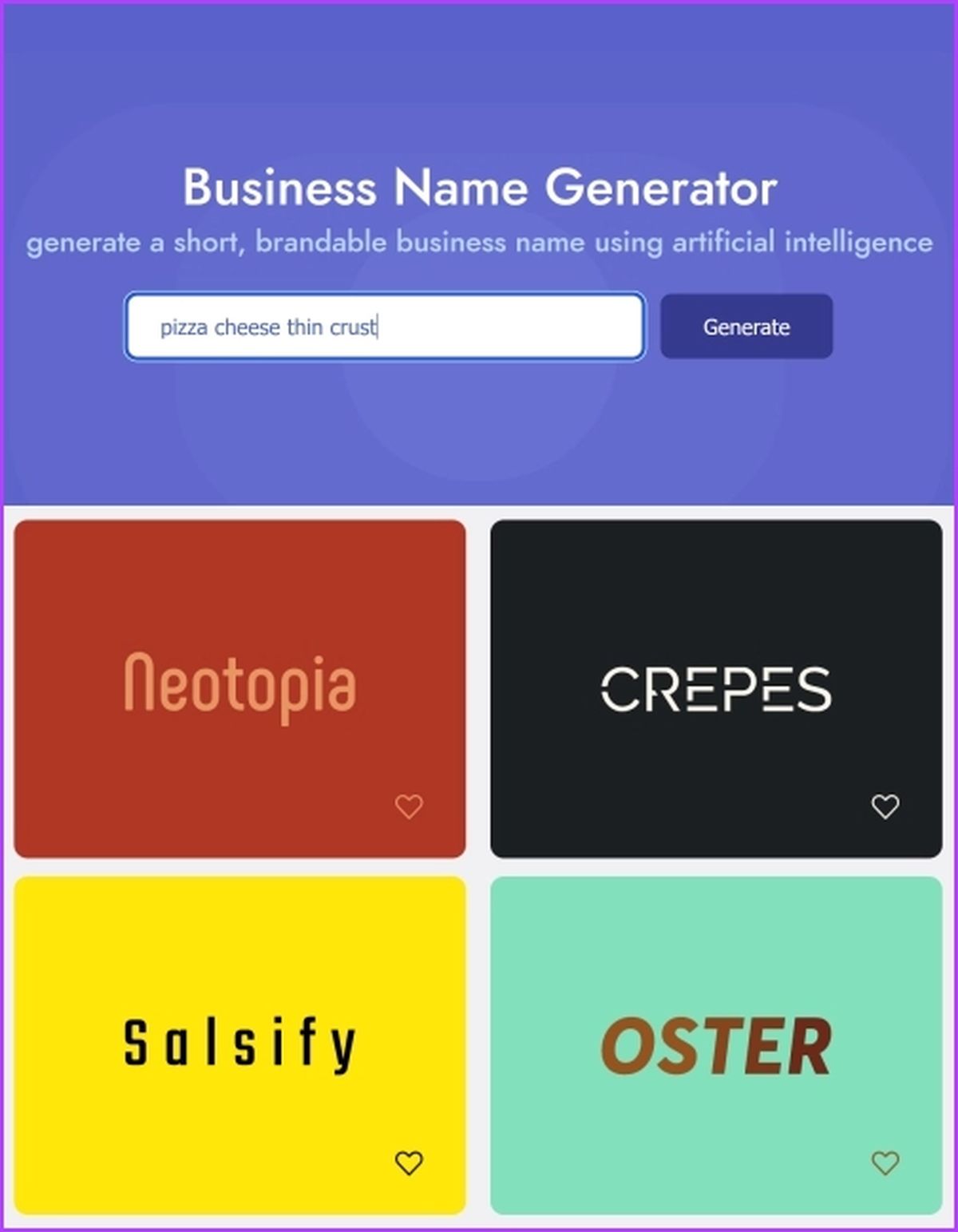 Moreover, Namelix's user-friendly approach extends to its accessibility. The tool is entirely free to use, eliminating the need for login or sign-up procedures. This seamless experience ensures that you can dive right into exploring the multitude of name possibilities without any unnecessary hurdles.
As one of the best free AI tools available, Namelix empowers entrepreneurs and business owners to find distinctive and captivating names that align with their vision. Embrace the creative potential and ease of use offered by Namelix as you embark on the exciting journey of branding your business or product.
JADBio
JADBio, among the best free AI tools available, is an intuitive machine-learning platform tailored for individuals eager to explore the realm of machine learning, even without extensive coding expertise. Its user-friendly interface and powerful knowledge extraction tools empower users to analyze various curated datasets effortlessly. Whether you're a student or an individual looking to develop predictive models for specific applications, such as identifying the ideal potato type for making fries, JADBio has got you covered.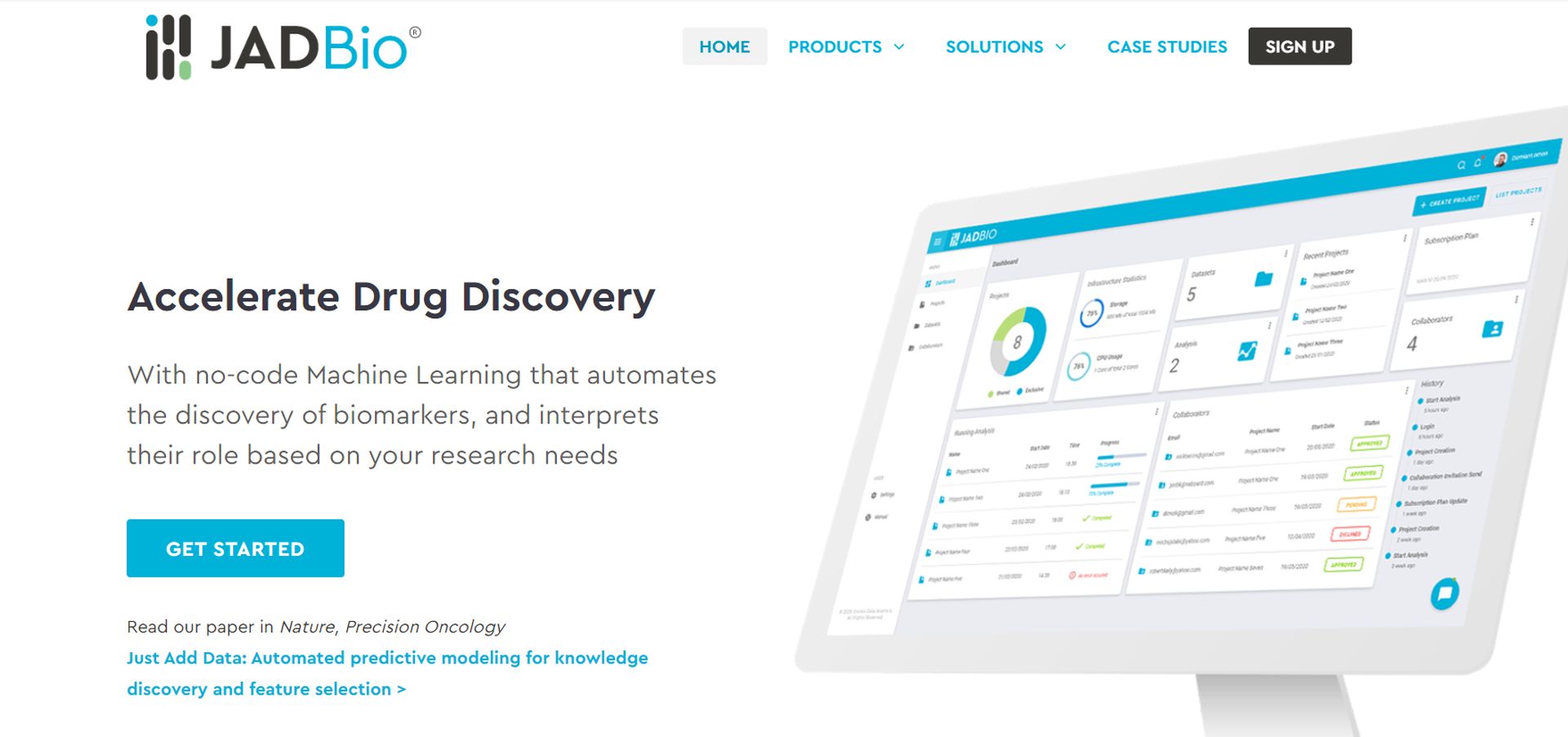 While JADBio's platform is primarily designed for biotech and multi-omics purposes, its versatility extends beyond these fields, making it suitable for a range of applications. Signing up for a lifetime free account is a breeze, ensuring easy access to the platform's comprehensive features. Regardless of your skill level, be it a beginner or an experienced machine learning enthusiast, JADBio offers a seamless experience in data analysis and model building.
Unlocking the power of AI has never been easier with JADBio. Delve into the world of machine learning, harnessing its capabilities to gain valuable insights and develop predictive models. With JADBio as your ally, embark on your journey of discovery and innovation with confidence, knowing you have one of the best free AI tools at your disposal.
Bing AI
Microsoft Bing AI stands out as one of the latest and most impressive AI writing generators available today. Powered by the same advanced GPT technology as ChatGPT, it seamlessly combines the capabilities of an AI chatbot with those of a search engine, offering users a comprehensive range of functionalities.
One of the standout features of Microsoft Bing AI is its AI writing generation capability. Leveraging the power of GPT technology, it can assist users in generating high-quality written content for various purposes. Whether you need help with crafting engaging articles, compelling product descriptions, or captivating stories, Microsoft Bing AI has got you covered.
As one of the best free AI tools on the market, Microsoft Bing AI provides a user-friendly and intuitive interface that makes interacting with the AI writing generator a breeze. Its versatility and adaptability ensure that users of all skill levels can benefit from its capabilities. Whether you're a seasoned writer seeking inspiration or a novice looking for guidance, Microsoft Bing AI is there to assist you every step of the way.
Experience the transformative power of Microsoft Bing AI, harnessing its AI writing generation prowess to enhance your content creation process. By integrating cutting-edge technology with user-friendly design, Microsoft Bing AI truly exemplifies the best in free AI tools, empowering users to unlock their creative potential and achieve remarkable results.
Google Bard AI
Google Bard AI chatbot represents one of the most impressive advancements in conversational AI. Utilizing a set of powerful deep learning algorithms known as "large language models," Bard AI excels in answering text-based questionnaires. Powered by the innovative LaMDA technology, this chatbot is capable of leveraging web searches to locate the most up-to-date and relevant answers.
As an experimental conversational AI service, Bard AI continuously learns from its interactions with humans, enabling it to constantly improve its performance and enhance the quality of its responses. This adaptive learning approach ensures that users receive accurate and valuable information when engaging with the chatbot.
Notably, Bard AI is a prime example of the best free AI tools available. Developed by Google, it demonstrates the commitment to innovation and excellence that the company is renowned for. With its user-friendly interface and advanced language processing capabilities, Bard AI offers an accessible and powerful conversational AI experience.
Unlock the potential of Google Bard AI chatbot to streamline your information retrieval process. Engage in meaningful conversations and obtain accurate answers to your queries, all while benefiting from the continuous learning and improvement of this cutting-edge AI tool. As one of the best free AI tools on the market, Bard AI is poised to redefine the way we interact with AI-powered chatbots.
Charley AI
Charley AI writing generator is undeniably one of the most advanced AI tools in the realm of writing. By harnessing the power of GPT-3, combined with exclusive data, Charley takes writing generation to a whole new level. It effortlessly crafts high-quality essays, providing users with a solid foundation that can be further customized to meet their specific preferences.
With Charley, the days of grappling with tedious and time-consuming writing tasks are over. This remarkable AI tool streamlines the writing process, liberating you to focus on the more creative and exciting aspects of article creation. Whether you're a professional writer seeking inspiration or a student looking for assistance with academic assignments, Charley's capabilities are bound to impress.
One of the distinguishing features of Charley AI writing generator is its ability to generate original content. Its sophisticated algorithms ensure that the essays produced are not only well-written but also unique and engaging. This empowers users to confidently leverage the generated material, knowing that it has been crafted specifically for their needs.
While Charley is indeed one of the best free AI tools available, it's important to note that certain features may be limited in the free version. However, the value it brings to the writing process is undeniable, and the potential for enhanced creativity and productivity is significant.
Experience the power of Charley AI writing generator and witness firsthand how it revolutionizes the way you approach writing tasks. Embrace the opportunity to unleash your creativity and elevate the quality of your written content with this exceptional AI tool.
Caktus AI
Caktus AI, an exceptional AI writing generator, has been specifically designed for educational purposes. It empowers users to effortlessly produce essays and complete schoolwork within a matter of minutes. The tool's efficiency and accuracy are truly remarkable, making it an invaluable asset for students seeking assistance with their academic tasks.
Upon registration, users are welcomed with a generous allocation of 20,000 bonus credits. These credits serve as a currency within Caktus AI, with one credit being consumed per generated sentence. This system ensures that users have ample resources to generate comprehensive and well-crafted solutions.
@caktus.ai

caktus.ai is here to help you be the most efficient student you can!🌵
Caktus AI goes beyond just providing a powerful writing tool by offering a referral system. Users have the opportunity to invite their friends to join, and both parties receive a substantial reward of 10,000 credits upon successful sign-up. This encourages a sense of community and enables users to further benefit from the tool's capabilities.
While Caktus AI offers the outstanding best free AI tools, it also provides premium plans for users seeking enhanced features and unlimited usage. The monthly premium plan, priced at $9.99, and the yearly premium plan, priced at $59.99, offer access to advanced AI features. These include a collection of over 20 templates for studies and flashcards, facilitating diverse learning approaches. Additionally, AI's content generation ensures that all produced material is 100% unique, promoting originality and academic integrity.
Hubble AI
Hubble AI's AI writing generator is an exceptional tool that harnesses the power of its context-aware AI to empower students in completing lengthy assignments with greater efficiency and generating superior essays. Its advanced capabilities have earned it a prominent place among prestigious institutions such as Yale, Harvard, and Berkeley, where over 100,000 students rely on Hubble AI for their academic writing needs.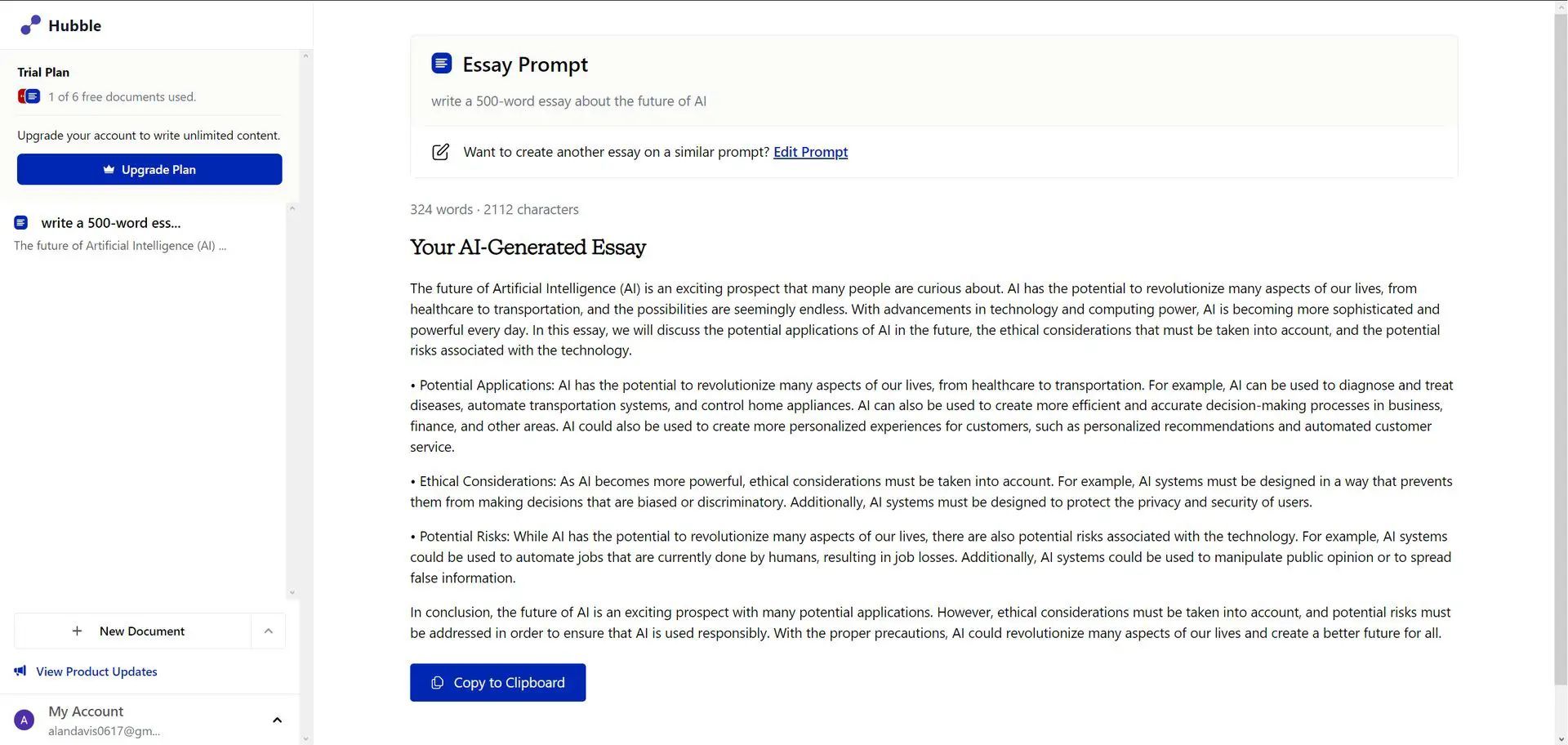 With Hubble AI's writing generator, students can expect a seamless and productive writing experience. The AI's contextual understanding ensures that the generated content aligns with the requirements and objectives of the assignment, resulting in higher-quality essays. By leveraging the tool's capabilities, students can streamline their writing process, saving valuable time and effort.
While Hubble AI's writing generator offers exceptional value, it is important to note that the tool is not available for free. The pricing for Hubble AI's writing generator starts at $9.99 per month. This investment grants students access to a powerful AI-driven writing assistant that can significantly enhance their writing outcomes and academic performance.
Jenni.ai
Jenni.ai is a remarkable AI tool that offers students an AI-powered essay assistant and writing generator, revolutionizing the way essays are created. By leveraging the power of natural language processing (NLP), Jenni.ai can analyze essays and provide valuable suggestions for improvement, covering grammar, structure, and even the student's unique writing style. This ensures that students can produce higher-quality essays in less time.
The AI writer provided by Jenni.ai is a comprehensive solution that assists students throughout the entire writing process. From conceptualizing ideas to crafting a finished product, the AI writer offers valuable guidance and support. By leveraging advanced NLP algorithms, it understands the nuances of the essay and provides intelligent suggestions to enhance clarity, coherence, and overall effectiveness.
One of the standout features of Jenni.ai is its Citation Function. Properly citing sources is a crucial aspect of research papers and essays, and Jenni.ai excels in helping students with this important task. By using AI algorithms to analyze sources and provide accurate citation recommendations, Jenni.ai ensures that students can confidently and correctly cite their references, avoiding plagiarism and upholding academic integrity.
While Jenni.ai offers an exceptional suite of features, it's important to note that it is not available for free. However, the investment in Jenni.ai's services is well worth it, considering the significant time savings and the improvement in essay quality that students can achieve. By utilizing the power of AI, students can streamline their writing process, gain valuable insights, and produce outstanding essays that showcase their academic prowess.
What is artificial intelligence?
AI has indeed become a game-changer across various industries, revolutionizing how we live and work. Its ability to process and analyze massive amounts of data, learn from patterns, and make intelligent decisions has opened up new opportunities and possibilities.
In the realm of marketing, AI has proven to be particularly valuable. By leveraging AI-powered tools and algorithms, marketers can gain deeper insights into consumer behavior, preferences, and trends. This enables them to create more targeted and personalized marketing campaigns, delivering the right message to the right audience at the right time.
AI also offers automation capabilities, streamlining repetitive tasks and freeing up human resources to focus on more strategic and creative initiatives. From chatbots that provide instant customer support to predictive analytics that optimize marketing campaigns, AI empowers marketers to be more efficient and effective.
Furthermore, AI can help businesses identify new growth opportunities and optimize their operations. By analyzing vast amounts of data, AI algorithms can uncover hidden patterns, identify market trends, and make accurate predictions. This knowledge can guide business decisions, enhance customer experiences, and drive overall business success.
However, it's important to note that while AI presents incredible opportunities, it also comes with ethical considerations. As AI becomes more integrated into our lives, we must ensure responsible development and usage, addressing concerns such as data privacy, bias, and transparency.
In conclusion, AI is a powerful tool that has the potential to revolutionize marketing and business operations. By embracing AI technologies, businesses can gain a competitive edge, deliver personalized experiences, and drive growth. The key lies in understanding how to harness the potential of AI while upholding ethical standards, creating a future where humans and machines work together to achieve remarkable outcomes.
Final thoughts
The accessibility and affordability of AI tools have made it easier than ever for individuals and businesses to leverage the power of AI in their everyday tasks. From content creation to data analysis and even music separation, these tools are democratizing the use of AI and enabling users to achieve tasks that were previously more challenging or time-consuming.
As AI technology continues to advance, we can expect to see even more innovative tools and applications emerging in the future. The possibilities are vast, and the potential for AI to enhance various aspects of our lives is immense. Whether it's in areas like healthcare, education, transportation, or entertainment, AI has the potential to transform industries and drive progress.
It's an exciting time to witness the ongoing development and adoption of AI technology. As these tools become more refined, intelligent, and user-friendly, they will continue to empower individuals and businesses to achieve more, solve complex problems, and unlock new opportunities. The future of AI holds great promise, and we can look forward to witnessing its continued evolution and impact on our society.