Discovering the top AI writing generators not only leads to academic success but also saves time and boosts productivity. Gone are the days of laboring over an essay for hours when an AI writing generator can produce a polished piece in mere minutes. These innovative tools are just one example of how artificial intelligence is revolutionizing daily life. Their creators understand the challenges faced by modern students who juggle tight deadlines and high-quality expectations.
If you're facing an impending essay deadline, why not leverage the power of AI with an AI writing generator? With our prior coverage of the best AI plagiarism checkers, you can rest easy knowing that your AI-generated essay will be free from plagiarized content. Simply run your essay through one of these cutting-edge tools before submission and watch your confidence soar.
What is an AI writing generator?
An AI writing generator is a specialized software that employs artificial intelligence to produce written content. This cutting-edge tool has a wide range of applications, including generating website and social media content, creating reports and articles, and even composing creative pieces such as stories or poems.
Everything you need to know about AI essay generators
AI essay writers are programmed to analyze text and generate well-crafted essays on any topic of your choosing. These applications boast a wide range of features, from selecting the most suitable keywords to arranging data into a persuasive framework, linking ideas with transitional phrases, identifying and separating facts from opinions, and catching spelling and grammatical errors.
Automated AI essay writers typically follow a standard structure: first, you input information about your topic, and the tool generates a thesis statement. Once you've settled on a thesis, you'll need to provide supporting details so that the AI can construct a comprehensive essay. This process is commonly referred to as prompt engineering. The quality of your essay is highly dependent on the quality of your prompt, which is why we offer an AI prompt engineering guide to ensure that you generate high-quality prompts for the best possible outcome.
Advantages of AI essay writers
Using an AI writing generator has various advantages:
AI writing generator produces essays of superior quality compared to those written by humans.
Computers have a better ability to analyze data and organize information systematically.
AI writing tools present data in a coherent way without introducing personal biases.
However, if the data input is biased, the output may be as well.
AI essay writers can save you time by completing projects like writing essays and researching more quickly.
Automated essay writing can help you meet tight deadlines.
AI-generated essays can be easily shared and copied.
No additional input from humans is required to produce essays.
Using an AI writing generator can reduce the stress associated with academic writing.
Knowing that you have assistance from an AI program can be comforting.
AI writing generators can increase your productivity by producing essays faster and with better quality.
This can help you focus on other academic tasks or pursuits.
By utilizing an AI writing generator, you can produce high-quality essays more efficiently.
The generated output is likely to be of superior quality compared to essays produced manually.
Disadvantages of AI essay writers
There are several disadvantages to using AI writing generators:
Low originality: Although AI technologies can generate ideas, they may not produce completely new concepts. This can result in less originality in the final essay.
Cost: Most AI writing generators require a paid subscription to access their features. This can add up in cost over time, making it less accessible for some individuals.
External dependence: While AI technologies can help with the organization of an essay, they cannot produce creative writing independently. To revise the final draft and ensure that the essay meets the project requirements, human input is still needed.
Errors: While AI technologies are faster and more accurate than humans, they can still make mistakes that a human writer would not. These errors can affect the quality of the final essay.
Plagiarism: Using pieces from multiple essays may increase the likelihood that sources are not properly referenced or cited, leading to unintentional plagiarism. It's important to review and check the final essay to ensure that all sources are correctly cited.
Best AI writing generators (2023)
As a student, do you wish to minimize the time spent on writing assignments? Then consider AI writing generators as your solution. These extraordinary programs can enhance your essays in several ways. Have a look at the most widely used AI writing generators:
Bing AI
Google Bard AI
Charley AI
Caktus AI
Hubble AI
Jenni AI
Jasper AI
Conch AI
Hivemind
Kipper AI
Compose AI
ChatGPT
Undoubtedly, you're familiar with the ChatGPT AI writing generator, which has captured the hearts of many users. OpenAI released ChatGPT in November as a means of showcasing and testing the capabilities of its enormous and powerful AI system. Users can pose a variety of questions to ChatGPT, and it typically responds with useful information, including essays. Simply prompt it with a request such as "write a 500-word essay about the future of AI."
Are you eager to learn how to use ChatGPT to its full potential without having to switch to ChatGPT Plus? We have a few tips and tricks for you. However, when attempting to utilize the AI tool, you may encounter errors such as "ChatGPT is at capacity right now" or "Too many requests in 1-hour try again later." Although these errors can be bothersome, rest assured that we know how to resolve them.
The AI writing generator and chatbot is an entirely free service, with unlimited usage, unless you opt for its paid subscription features. It is among the most frequently employed AI writing generators available.
Bing AI
Microsoft Bing AI is one of the latest AI writing generators that employ the same GPT technology as ChatGPT. It is an AI chatbot-integrated search engine that can perform a wide range of tasks, including AI writing generator.
Educators: I don't think AI is a solid B- student anymore.

Take a look at the difference between the Bing AI answer and the ChatGPT answer to the same essay prompt (the Bing answer includes 3 other pages, too). Quality is MUCH higher. More (and prompt): https://t.co/YF7S5ijmE6 pic.twitter.com/yzOJd6o43G

— Ethan Mollick (@emollick) February 15, 2023
Bing AI offers several benefits, including:
Improved search results: Utilizing artificial intelligence, Microsoft Bing AI delivers a superior search experience by providing more accurate results for common queries. In addition, there is an optional sidebar that contains even more useful information.
Complete answers: The new Bing AI employs artificial intelligence to scour the web extensively and provide a concise summary of the desired response.
Revolutionary chat experience: Bing AI's AI-powered chat function is particularly useful for complex inquiries, such as researching the best TV to purchase or planning a detailed travel itinerary. By asking questions and receiving real-time responses, users can refine their search results and obtain the information they require more quickly.
Unleash creativity: The new Microsoft Bing AI search feature can generate relevant material to meet users' needs. It may assist with writing an email, planning a five-day Hawaiian vacation complete with transportation and lodging reservation links, preparing for a job interview, or creating a trivia quiz for a fun night in. Bing AI also provides complete citations for all information included in its search results.
Redesigned Microsoft Edge experience: Microsoft recently launched version 1.1 of its Edge web browser, which features a new user interface and two novel features, chat and composition, both powered by artificial intelligence. The Edge Sidebar makes it easy to request a lengthy financial report summary. Once you have the highlights, you may use the chat feature to compare the financials of competing companies and have a table generated for you instantly.
Google Bard AI
Google Bard AI chatbot utilizes a collection of deep learning algorithms called "large language models" to answer questionnaires provided through text. This chatbot is based on LaMDA technology and is programmed to locate the most recent answers to questions through web searches. Bard AI, an experimental conversational AI service, is designed to learn from its interactions with humans to enhance its performance.
1/ In 2021, we shared next-gen language + conversation capabilities powered by our Language Model for Dialogue Applications (LaMDA). Coming soon: Bard, a new experimental conversational #GoogleAI service powered by LaMDA. https://t.co/cYo6iYdmQ1

— Sundar Pichai (@sundarpichai) February 6, 2023
Charley AI
Charley AI writing generator is an advanced AI writing tool available today, which blends GPT-3 with exclusive data to generate top-notch writing. It can create an original essay for you, and you can edit it as per your preferences. Charley eliminates tedious and time-consuming writing tasks, allowing you to concentrate on more creative and exciting aspects of article creation.
Charley AI offers a free trial, after which you can select from its pricing plans. The Mini plan costs $13.99/month and includes 12,000 words per month, document export, and copy/paste.
The Student plan costs $18.99/month and includes everything in the Mini plan, 35,000 words per month, and 24/7 live chat support.
The Ultimate plan costs $29.99/month and includes everything in the Student plan, 100,000 words per month, and the ability to import rubrics and task sheets (beta).
Caktus AI
Caktus AI is an AI writing generator designed for educational use. It can produce essays and complete schoolwork in just a few minutes. Upon registration, users receive 20,000 bonus credits which can be used for generating solutions. One credit is used per sentence in the solutions produced. Caktus AI also offers a referral system where users can invite friends and receive 10,000 credits each upon sign-up. There are two pricing options available: a $9.99 monthly premium plan and a $59.99 yearly premium plan, both of which offer unlimited usage and advanced AI features such as 20+ templates for studies and flashcards and 100% unique content generation.
@caktus.ai

caktus.ai is here to help you be the most efficient student you can!🌵
Hubble AI
Hubble AI's AI  writing generator, powered by its context-aware AI, enables students to complete lengthier assignments more efficiently while generating better essays. Hubble AI is currently used by over 100,000 students at prestigious institutions such as Yale, Harvard, and Berkeley. Hubble AI writing generator is available for $9.99 per month.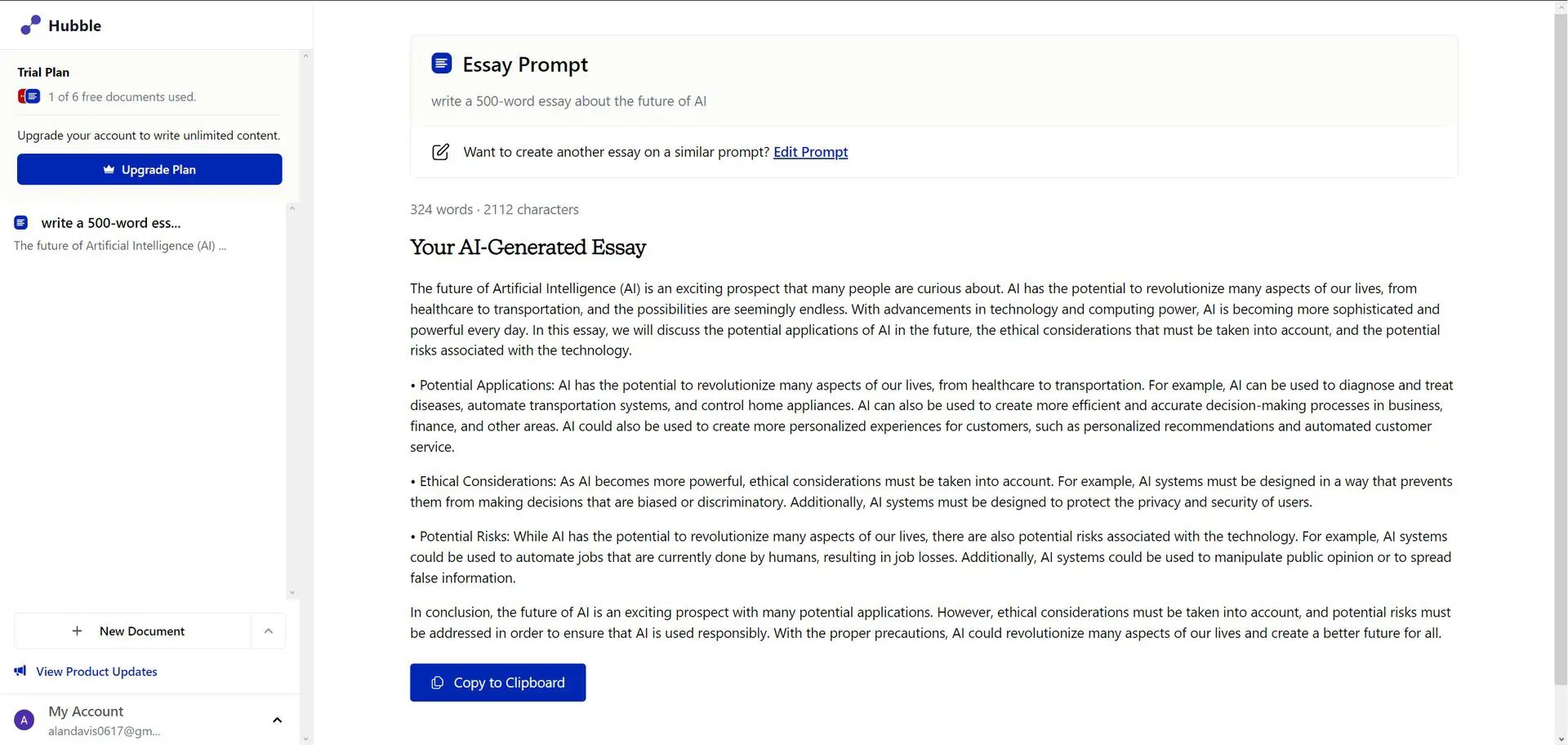 Jenni.ai
Jenni.ai provides an AI-powered essay assistant and writing generator that can help students produce better essays in less time. Using natural language processing (NLP), it analyzes the essay and provides suggestions for improvement based on grammar, structure, and the student's writing style. The AI writer can assist with all aspects of the writing process, from concept to finished product. The standout feature of Jenni.ai is its Citation Function, which helps students properly cite their sources in research papers and essays.
Jenni AI offers six different pricing plans for both individuals and corporations, with monthly rates ranging from $6 to $128, and annual plans offering greater savings.
Jasper AI
Jasper is an AI writing generator that can quickly generate content for marketing copy, blog posts, and social media profiles. By providing a title, description, keywords, and voice instructions, users can let Jasper generate material for them. The AI writing generator offers 10,000 free words at the start, followed by a choice of subscription plans. Jasper offers a basic plan for $29 per month and a Boss Mode plan for $59 per month, with a yearly plan that includes savings for two months. A risk-free trial period of 5 days with a full refund policy is available. Jasper is a widely used AI writing generator due to its speed and efficiency.
Conch AI
Conch AI is an AI writing assistant designed to increase productivity while on the go. Its writing generator includes various features such as Rewrite, which allows for highlighting and rewriting sentences and paragraphs, TLDR, which summarizes pdfs, books, and articles, Q/A, which provides instant answers to any questions, and Templates, which generates introductions, outlines, and more.
HiveMind
HiveMind, an innovative artificial intelligence (AI)-driven writing automation tool, is capable of extracting data and summarizing lengthy text in a matter of seconds. By utilizing natural language processing techniques, this software can quickly and accurately provide concise summaries of articles or documents.
The HiveMind AI writing generator was specifically designed to seamlessly integrate with the Hive platform for project management, allowing for maximum collaboration on team content. More than just a content generator, HiveMind's AI was crafted with the goal of enhancing its users' efficiency and effectiveness. Think of it as a partner and an extra set of hands for your content strategy!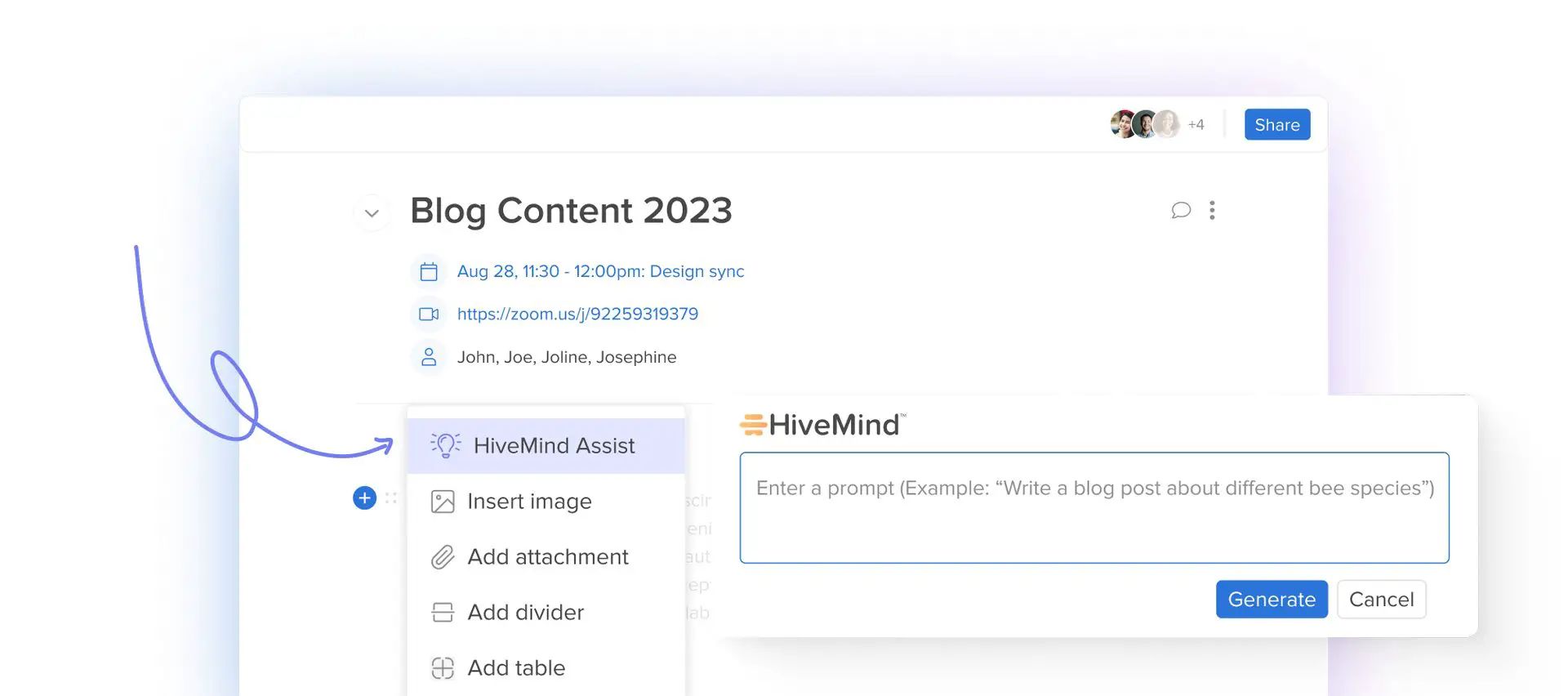 When it comes to pricing plans, HiveMind offers three options, including a free tier. Choose the plan that best suits your needs and watch as HiveMind's powerful AI technology transforms the way you approach writing and content creation.
About free plan:
The free pricing plan for the HiveMind AI writing generator includes a generous 500MB of storage and allows up to 10 teammates to collaborate on projects. With no limit on the number of tasks, you can create as many notes as you need and share them with internal or external teammates. Additionally, you'll have access to unlimited collaborative notes that can be viewed in multiple ways with just one click, including Gantt, Kanban, calendar, and table views.
To help consolidate information, the HiveMail feature brings your email inbox directly into Hive, allowing you to respond to, send, and attach emails to action cards. HiveMind is also accessible across devices, with desktop, iOS, and Android apps available for download.
When it comes to communication, HiveMind offers several options to keep teammates on the same page, including direct messages, group messaging, and threads. Plus, you can add a personal touch to your conversations with custom emojis – add any image you want as an emoji!
Pricing for teams:
For teams looking for a more robust set of features, HiveMind offers a Teams pricing plan starting at $12 per user per month. With unlimited storage and the ability to invite as many teammates as needed, each user is billed separately, making it easy to scale up or down as needed.
With this plan, you'll also have access to unlimited workspace members and the ability to customize your Hive workspace with seven flexible add-ons, including analytics, resourcing, timesheets, proofing, and more.
To streamline communication with external clients or contributors, HiveMind offers customized access through its External Guest Access feature. Plus, you can easily streamline client intake, project requests, or employee onboarding with Hive Forms, which can be shared with anyone with the link.
Stay on top of your team's workload with HiveMind's native time tracking and in-app calendar and reminders. Connect your cloud storage to attach files to actions and projects, and even start a Zoom call directly in Hive or connect your Slack account for even more efficient communication. With HiveMind Teams, you'll have all the tools you need to keep your team working together seamlessly.
Pricing for enterprise:
For larger organizations looking to take their collaboration and productivity to the next level, HiveMind offers an Enterprise pricing plan with flexible add-ons included. Contact HiveMind directly for pricing information.
With Enterprise, you'll have enhanced security and permission controls, allowing you to monitor access to specific parts of Hive, including projects and actions. Plus, you can utilize your in-app data to transform your workflow with custom analytics and reporting dashboards.
Onboarding new teammates has never been easier, as unlimited onboarding is included with Enterprise. Plus, you'll have access to one-on-one support from HiveMind's customer success team, including a dedicated Customer Success Manager.
Integrate HiveMind seamlessly with any other apps you use through the Enterprise API. Order personalized training and custom sessions to take your workspace to the next level with access to professional services.
Overall, the Enterprise pricing plan offers a comprehensive set of features designed to meet the needs of larger organizations. With flexible add-ons, enhanced security and permission controls, and access to personalized training and support, HiveMind is the ultimate collaboration and productivity tool for enterprise-level teams.
Compose AI
Composing high-quality written content can be time-consuming and often requires a considerable amount of effort. Compose AI, a free Chrome extension, aims to streamline the writing process by reducing writing time by up to 40 percent, thanks to its advanced AI-powered autocompletion and text generation capabilities.
With Compose AI, you'll no longer need to worry about spending hours crafting the perfect email or essay. Our AI technology adapts to your writing style and offers context-based options that can help you express your ideas more effectively, whether you're writing a short Slack message, an extended email, or an academic paper.
Not only is Compose AI a free plugin that you can use indefinitely, but it also comes with a premium version that offers additional customization options, allowing you to further tailor the plugin to your specific needs.
In summary, if you're looking to save time and boost your writing productivity, Compose AI is an excellent tool to add to your arsenal. With its advanced AI technology, Compose AI can help you write more efficiently and effectively, making it an indispensable tool for anyone who writes on a regular basis.