Without a wand, what good is a witch or wizard? That's why today we'll go over the Hogwarts Legacy wand selection process for you. You'll begin Hogwarts Legacy with a borrowed wand, but you'll soon travel to Ollivanders to get the ideal wand for you.
You have the option to change the style, wood, flexibility, length, and core of the wand that was chosen for you. Want to learn more about your selections and whether your wand has an impact on your in-game strength? Read on and find out!
Hogwarts Legacy wand selection explained
In Hogwarts Legacy, you'll go through a number of wands after arriving to Ollivanders just to discover that you can't use them. One more wand will be discovered by Ollivander that is ideal for you.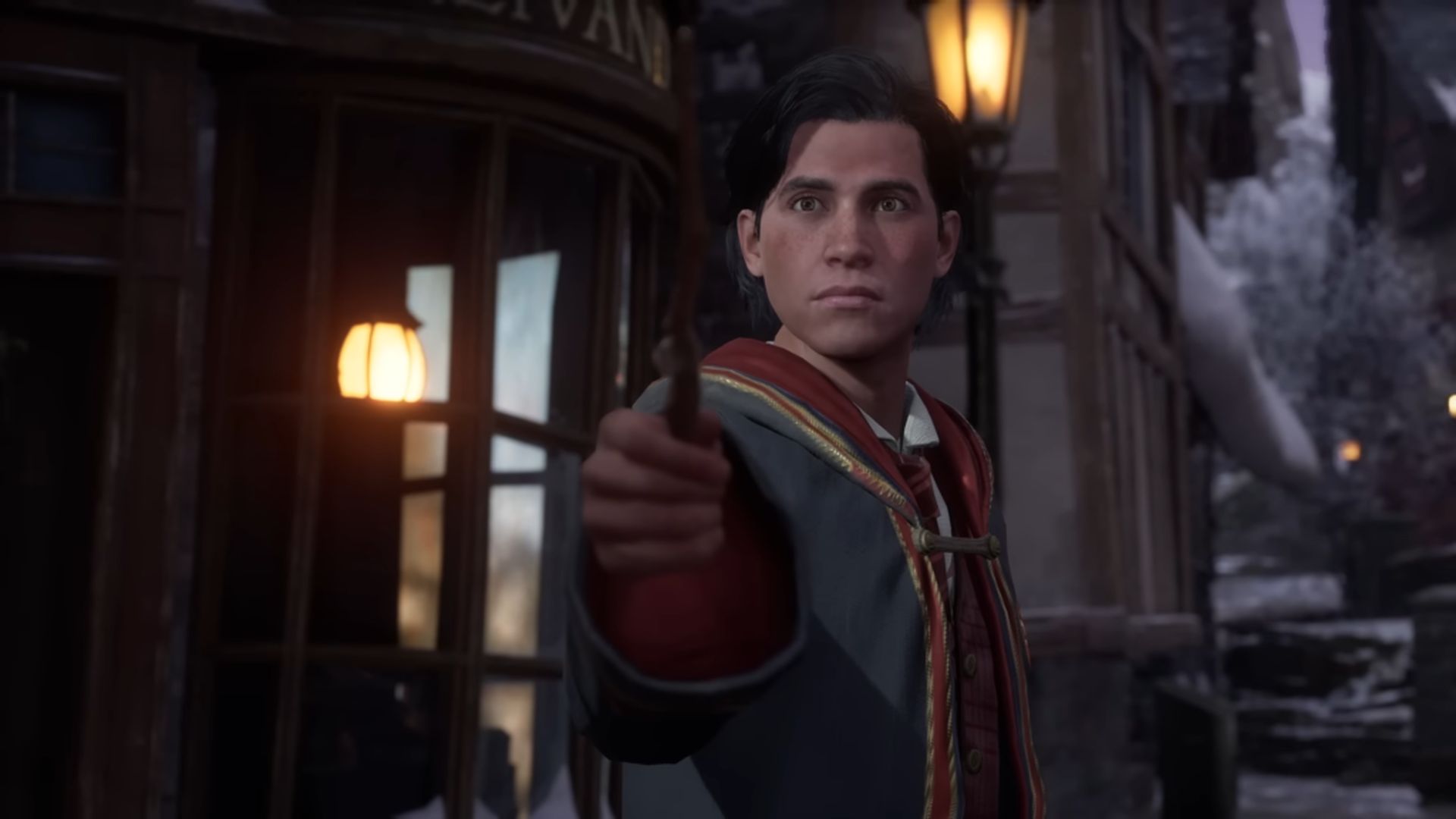 You'll see the wand connected to your Harry Potter Fan Club account if you've linked your accounts with WB Games and Harry Potter Fan Club, as well as selected your house. If you don't, a wand with arbitrary qualities will be provided to you. From here, you can either buy the wand that selected you or alter its features before moving on.
Wand types and attributes in Hogwarts Legacy
The Hogwarts Legacy wand selection options are:
Wand style
There are eight different wand designs with three color options for each that alter the wand's form and appearance. The choices are all given below.
Notched

Warm Brown variation
Light Brown variation
Dusty Pink variation

Classic

Grey variation
Black variation
Grey-Brown variation

Soft Spiral

Light Brown variation
Warm Brown variation
Black variation

Spiral

Ash Brown variation
Green-Grey variation
Dark Brown variation

Stalk

Honey Brown variation
Dark Brown variation
Warm Brown variation

Ringed

Dark Brown variation
Pale Brown variation
Buff variation

Crooked Spiral

Dark Grey variation
Warm Brown variation
Pale Brown variation

Natural

Grey variation
Honey Brown variation
Warm Brown variation
Wood type
When choosing a Hogwarts Legacy wand, this choice alters the wand's length and flexibility as well as the sort of wood it is made of. The following is a list of every type of wood available in the Hogwarts Legacy wand selection process.
Acacia
Alder
Apple
Ash
Aspen
Beech
Blackthorn
Black Walnut
Cedar
Cherry
Chestnut
Cypress
Dogwood
Ebony
Elder
Elm
English Oak
Fir
Hawthorn
Hazel
Holly
Hornbeam
Larch
Laurel
Maple
Pear
Pine
Poplar
Red Oak
Redwood
Rowan
Silver Lime
Spruce
Sycamore
Vine
Walnut
Willow
Yew
Now, when it comes to choosing a wand length, the witch or wizard's or wizard's height is typically taken into consideration. However, it can also occasionally reflect the unique personality of the witch or wizard, so those who favor straightforward and refined spellcasting will probably get an average-sized wand, whereas those with an exceptionally bold personality or a dramatic spellcasting style will probably get a wand on the larger side of the spectrum.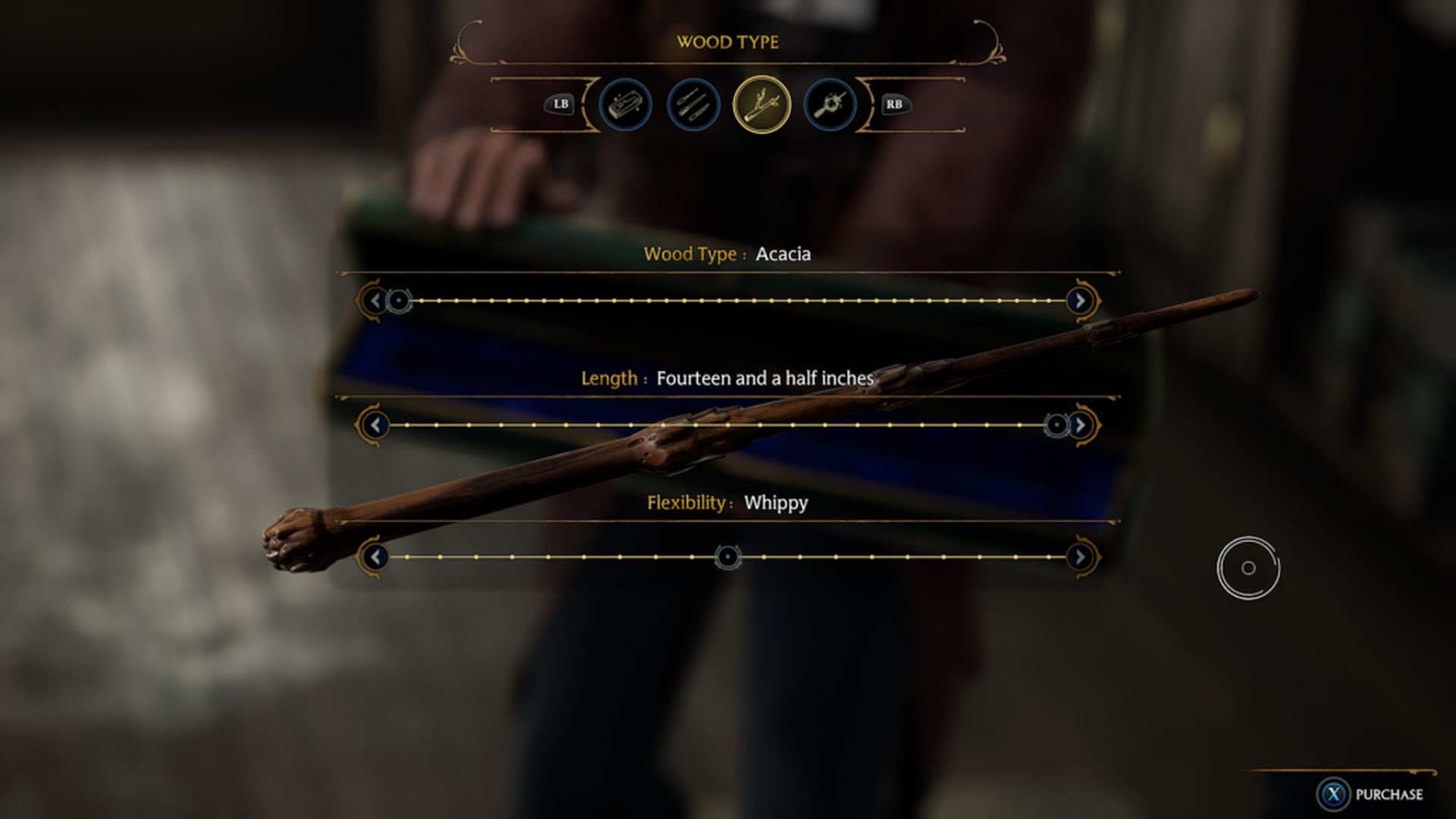 While these elements typically influence wand length, each element of a wand alone contributes to making the ideal wand. This means that wand flexibility can vary greatly and occasionally be independent of the characteristics.
The variety of wand sizes in Hogwarts Legacy is consistent with what was previously understood in the wizarding community. Thus, the length of the player's wands can range from 912 to 1412 inches.
A specific wand's flexibility depends on the personality of the person using it. This suggests that those who are flexible and laid-back tend to have a more flexible wand, whilst those who are steadfast and unshakable tend to have a stiffer wand.
Wand flexibility can deviate greatly from the features generally associated with different flexibility types depending on what other components are present, much like wand length can.
There are 19 different wand flexibilities available in Hogwarts Legacy:
Quite Bendy
Fairly Bendy
Very Flexible
Quite Flexible
Surprisingly Swishy
Swishy
Slightly Springy
Supple
Reasonably Supple
Whippy
Pliant
Brittle
Hard
Solid
Stiff
Rigid
Unbending
Slightly Yielding
Unyielding
Wand core
There are just three main sorts of wands, despite the fact that every other parts of wand production offer numerous distinctive alternatives. In the wizarding world, there are more wand types than in Hogwarts Legacy, which only offers the three strongest and most well-known cores.
Dragon Heartstring: This core is renowned for creating magic that is strong and potent.
Unicorn Hair: This core is renowned for its reliable and dependable magic production.
Phoenix Feather: This core's magic is renowned for being adaptive and versatile.
Players choose their own wand when they go to Ollivanders during the main story and cannot change their minds about the wand style, wood type, or wand core once the Hogwarts Legacy wand selection process is complete. After all, the wand selects the wizard.
Anyway, as you advance in the game, you'll come across a lot of wand handles, giving you the chance to customize your wand however you choose. This is a wonderful way to give wand personalization more complexity without altering the actual wand.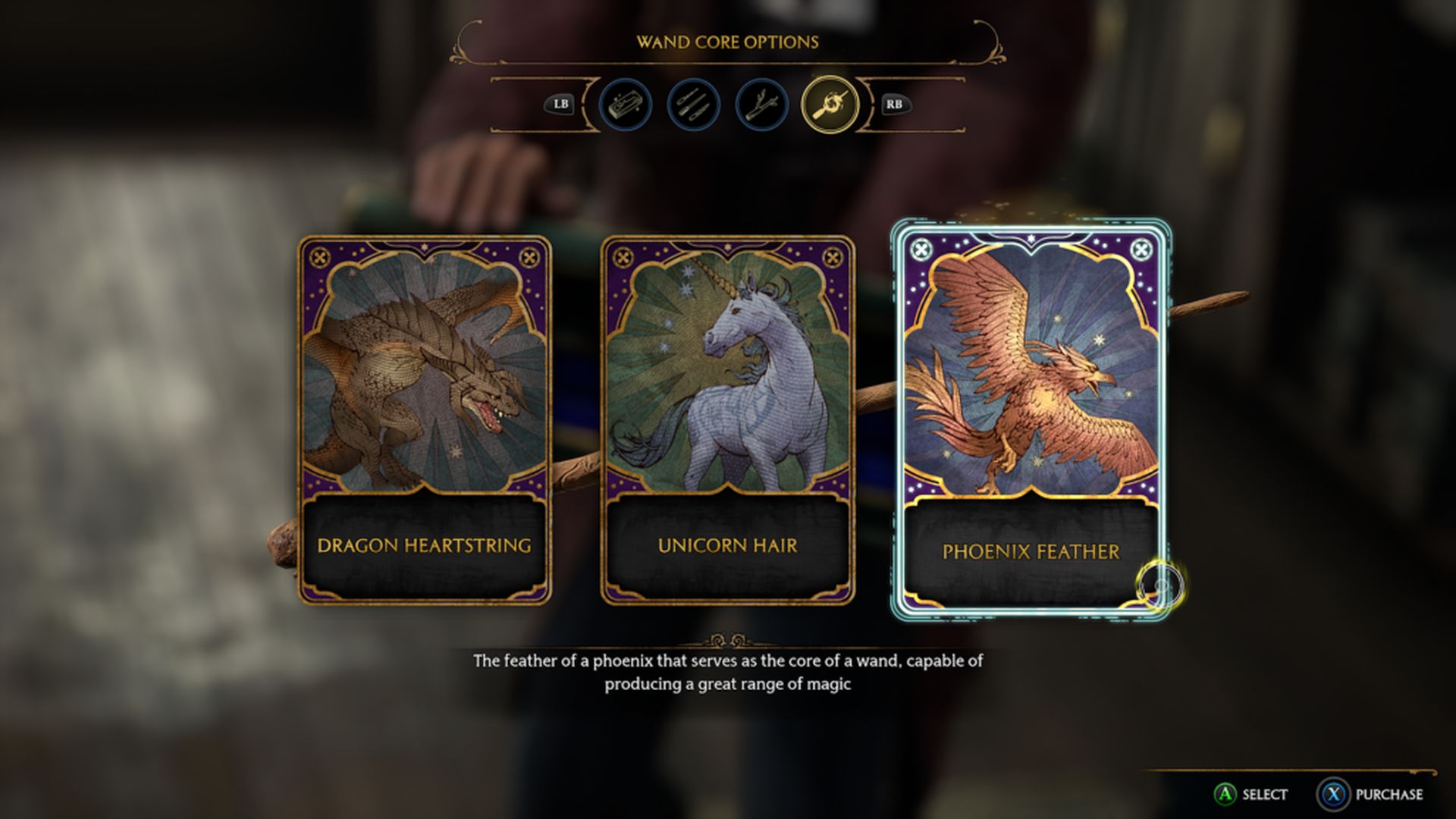 Additionally, Hogwarts Legacy wand customization is only intended for roleplaying. The only purpose of specifics like the length, flexibility, and quality of wood is to let you feel as though you are obtaining your own wand and to help you immerse yourself in the universe.
Can you change your wand after the Hogwarts Legacy wand selection?
You cannot change your wand after choosing and purchasing it at Ollivanders. To get a new wand, you'll need to create a new character, so make sure the one you already have is the ideal one for you.
However, while you play Hogwarts Legacy, you'll come across wand handles that you may use to further alter the look of your wand.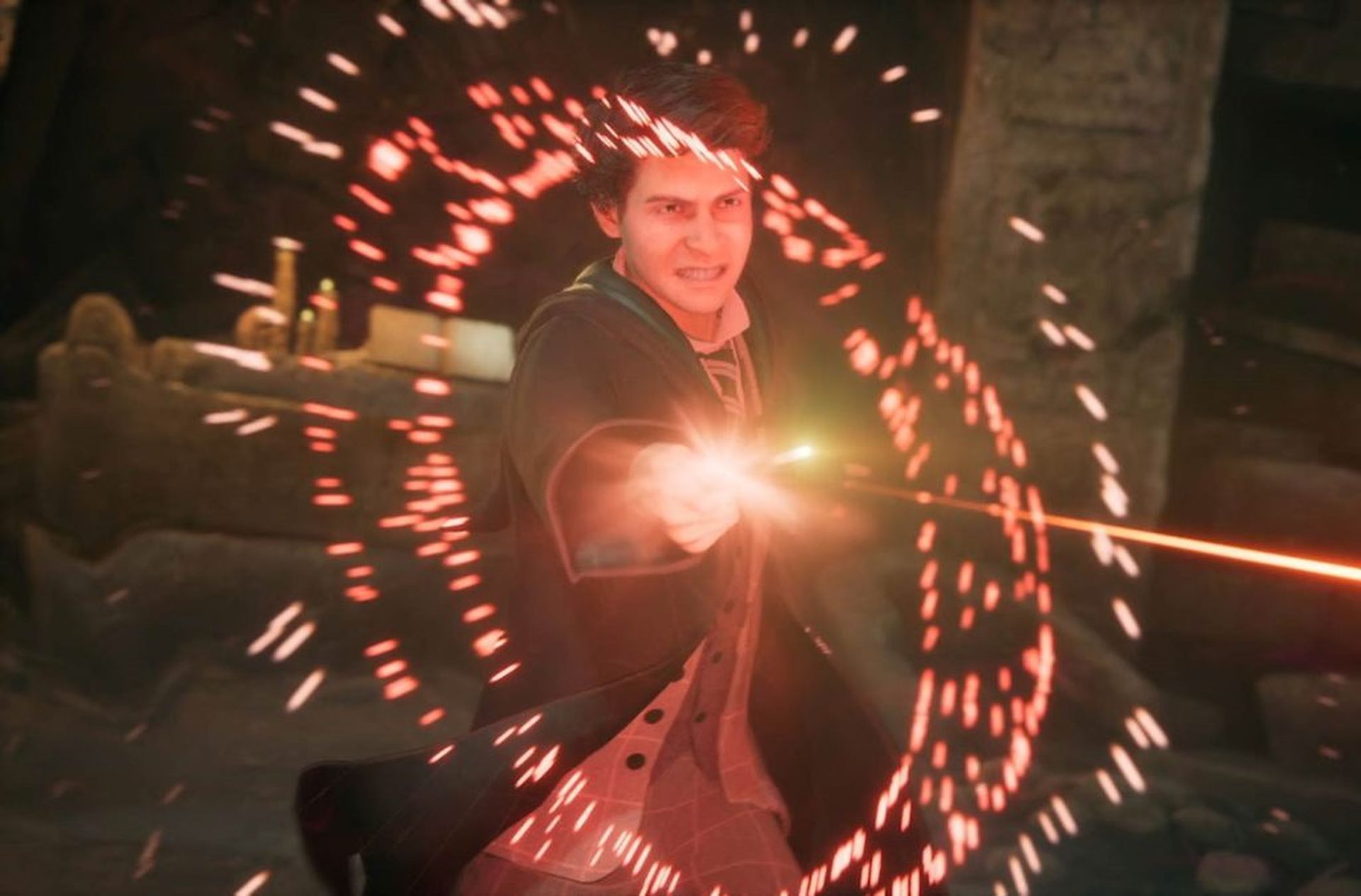 What is the best option in Hogwarts Legacy wand selection?
In Hogwarts Legacy, your wand has no bearing on how powerful your character can be. It's only for aesthetic purposes, so make a wand that you like!
We hope that you enjoyed this article on Hogwarts Legacy wand selection. If you did, we suggest that you also take a look at some of the other articles on Hogwarts Legacy, such as how to defeat the Pensieve Guardian and destroy the orb in Hogwarts Legacy, or limited edition Hogwarts Legacy controller for PlayStation 5 just unveiled.